The invention of chainsaws is one of the key cornerstones of the modern-day timber industry revolution. While axes are still quite popular, nothing beats the convenience of having a chainsaw at hand when you need to fell a tree.
Having a chainsaw in your tool collection enables you to chop wood during winter in a jiffy. And that if for no other reason is worth it. A chain saw is essential especially if you live in your own compound that has trees that may need trimming from time to time. With the influx tool manufacturers, it would be difficult to pick the best chain saw under $400.
If you are looking for something cheaper, you can check out our roundup of the best gas chainsaws under $200
Top 5 Chain Saws under 400 Bucks in 2021
| Name | Power | Blade Size | Price |
| --- | --- | --- | --- |
| Husqvarna 18 Inch 450e II Gas Chainsaw | 2 Cycle 50.2cc gas engine | 18 inch | Check Price |
| DEWALT DCCS620B 20V MAX XR | 24V electric motor (battery sold differently) | 12 inch | Check Price |
| Husqvarna 460 Rancher | 60.3cc 3.2Hp gas engine | 24 inch | Check Price |
| Craftsman CMXGSAMY426S | 46cc 2-cycle gas engine | 20 inch | Check Price |
| WORX WG304.1 | Corded power supply to 15 Amp motor | 18 inch | Check Price |
Husqvarna 18 Inch 450e II Gas Chainsaw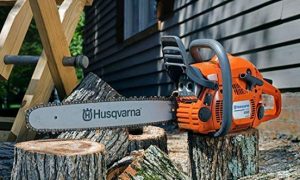 Being a domestic name in the tool industry, this gasoline chainsaw enjoys immense popularity amongst at home tool owners and with good reason. The chain saw comes with a new improved chainsaw bar design that offers professional-grade performance at an affordable price.
It also has a powerful 50.2 cc engine that equips the chainsaw with the needed horsepower to handle any job no matter how tough – as long as the chain is well set. Additionally, its inertia activated chain brake ensures that is can brake automatically in case of an accident. An automatic chain oiler also delivers oil to the chain and bar. There is also a chain tensioning system that allows you to tighten the chain if need be.
Features
The X-Torq engine
Auto return stop switch,
Visible fuel level
Smart Start
Pros
Lower fuel consumption
Reduced emissions
Cons
Oils start leaking after a while
Check Price on Amazon
DEWALT DCCS620B 20V MAX XR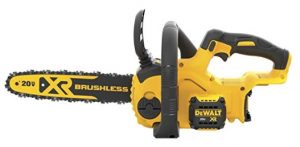 This battery-operated chainsaw has a low kickback 12-inch bar and chain that is perfect for construction and outdoor cutting jobs. It also has a highly efficient brushless motor that maximizes operation time and motor life as well as its chain gauge 0.043 and speed of 25.2 feet per second.
Check this too: Best radio headphones for lawn mowing
Its bar tightening knob allows you to regulate the correct tension for each job. It also has a compact and easy to lug design.
Features
Cordless chainsaw
Speed 25.2 feet per second
43 chain gauge
Pros
Can slice through numerous tree limbs continuously
Makes working easier
Cons
Some spare parts are made using cheap plastic and will break after a couple of uses
Motor pulses when overwhelmed making it difficult to work with
Check Price on Amazon
Husqvarna 460 Rancher 24″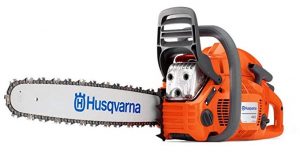 With its 24-inch bar, this Husqvarna chainsaw takes the cake for being the best chain saw under $400. It is made to fell huge trees with unmatched precision due to its distinct felling marks. It also has an X-Torq engine that enables it to consume less fuel and lower emission levels.
It also has easy start-up technology to make using it a breeze because of its air purge that removes air from the carburetor and fuel system and the auto-return stop switch. It also has an inertia activated chain brake that prevents the probability of accidents happening due to kickback.
Features
375 inch pixel pitch chain
X-Torq engine
.050 inch gauge.
Transparent fuel indicator
Pros
Easy to start up
Lower fuel consumption
Cons
Can be too powerful for smaller jobs
Check Price on Amazon
Craftsman CMXGSAMY426S (Best on Budget)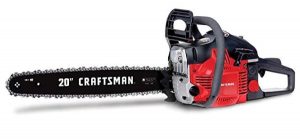 A 46 cc high output engine that has a 2 cycle full crank feature with pro-grade chassis makes this a chain saw to consider. It is able to deliver steady power that can withstand even the most difficult tree felling tasks. It has a cushioned full wrap aluminum handle, an anti-vibration system that enables it to be quitter than other chainsaws, and an ergonomic design for easy use.
Features
5-point anti-vibration system
Inertia-activated chain brake
Pro-grade chassis
Pros
Extremely powerful engine
Can cut through large diameter tree trunks at ease
Cons
Chainsaw tension needs frequent adjustment
Check Price on Amazon
WORX WG304.1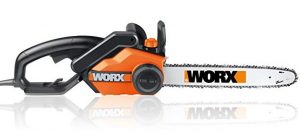 Wors chainsaw has a patented auto-tension chain system that prevents over-tightening. It also has a built-in chain brake for safety precaution purposes. Its 15 amp motor delivers the punch needed to handle tougher tasks. The electric motor is more silent than a gasoline one but you will still need ear muffs to stay protected.
It also comes with automatic oil lubrication to keep your chain properly lubricated at all times. Additionally, its built-in oil reservoir with window level indicator is a life saver.
Features
18-inch bar
Patented auto-tension system
Auto-lubrication with oil level indication
15 amp motor
Pros
Auto lubrication makes it almost maintenance-free
Inbuilt safety mechanism
Cons
Check Price on Amazon
What Is the Best Chainsaw Under $400?
The best chainsaw under the 400-dollar mark is one that is able to deliver on these fronts;
Low fuel or energy consumption
Minimal maintenance required
Ability to handle both large and small jobs with ease
Bottom Line
The bottom line is to make sure that you get value for your money. The best chain saw under $400 should be able to handle exactly what you need it to do. Do not settle for a chainsaw that cannot deliver on all fronts. Get one that is easy to use for both small and big projects.