We all love the ambiance of a flourishing garden. Such places are often full of life and fresh air. More so, they often provide a convenient and cost-effective solution for groceries such as onions or tomatoes. For most people, being able to cultivate your own personal garden using DIY tools is often a fun experience. The gardening process teaches you several values such as hard work, and it also lets you enhance the value of your property.
Even if you are disabled or perhaps facing a major health complication, you can still garden effectively when you make good decisions. This adaptive gardening tools for the disabled list can help you choose the perfect gardening equipment. These tools are designed to making a garden a breeze, and without causing any compromise to your productivity levels. They include:
Top Tools for the Disabled Gardener in 2021
Name
Highlights
Price
Easi grip tools
- A wide range of tools designed for easy use while on a wheelchair
- Use an ergonomic handle and wrist attachment for better leverage
- You can get spades, rakes, hoes and more

Check Price

Kings County Tools 30-inch Long-Reach Pruner
- Long handled pruner that lets you snip on branches and twigs while still seated
- Reduces need to lean over hence risk of tipping over
- Easy to use and maneuver. You can do delicate pruning with the right practice

Check Price

Husqvarna AUTOMOWER 315X, Robotic Lawn Mower
- A fully automated lawn mower that will run cycles around the lawn on a predetermined schedule
- You will need some help in installing it

Check Price

Yachee Aluminum Reacher Grabber, 37"Extra Long Handy Mobility Aid with Rotating Grip
- A useful reach grabber for picking up things on the ground without bending
- Will work perfectly with the long handle pruner to collect the cut bits and pieces

Check Price

Corona GT 3070 Extendable Handle Cultivator
- Has an extendable arm so you can adjust how far you want to use this cultivator rake
- Soft and comfortable textured grip makes it easy to grasp and maintain a hold

Check Price

Dramm 14804 One Touch Rain Wand with One Touch Valve
- A watering want that makes watering small plants and beds easier by bringing the jet of water closer to the ground
- Thumb control to monitor water flow


Check Price
Easi grip tools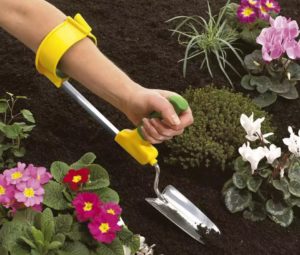 Designed primarily in the UK to provide a host of unique gardening benefits, Easy Grip Tools are perfect for modern-day gardeners. These tools are designed to eliminate the strains and blisters associated with using conventional garden tools. More so, as one of the best disability work tools, this unit features a unique "soft-feel" grips, that have non-slip and waterproof finishes. The Easi-grip tools are well known for producing various types of gardening tools including cultivators, weeders, and hoes.
Pros
These tools are designed to promote productivity
They also reduce the likelihood of blisters or injury
The Easi-grip tools provide exceptional longevity
Cons
Some tools could be unnecessarily heavy
Check Price on Amazon
Kings County Tools 30-inch Long-Reach Pruner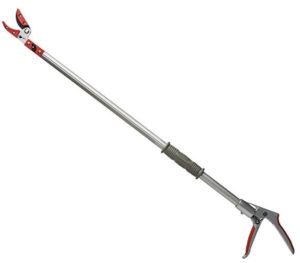 Kings County Tools is a leading brand in producing high-quality adaptive pruners and secateurs. In particular, the pruner is long, which means that one can prune even when seated on a wheelchair. Even more, the Kings County Tools 30 inch Pruner has a long shaft, and it also provides enhanced long term professional functionalities. Besides that, the unique design of the mower can rotate between being in line with cutters to sitting at a right angle. The unique mid shaft grip position is simple to adjust to provide enhanced Gardening Tool performance. The durable structure provides years of reliable pruning performance.
Check Price on Amazon
Husqvarna AUTOMOWER 315X, Robotic Lawn Mower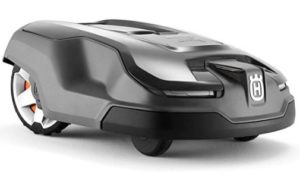 The Husqvarna AUTOMOWER 315X Robotic Lawn Mower is the perfect addition to your property. The unique design features of this unit make it suitable even for disabled users. Furthermore, the Robotic Lawn Mower provides optimal control with just a simple click on your phone. The mower lets you send start, stop and park commands. More so, an onboard GPS system maps out the garden, including aspects such as boundaries and guide wires. Equipped with an energy efficient LED headlight, the Lawn Mower provides optimal visibility even in dark rooms.
It is also a great solution to people who experience grass allergy after mowing since you don't have to be there in person as it cuts the grass.
Check Price on Amazon
Yachee Aluminum Reacher Grabber, 37"Extra Long Handy Mobility Aid with Rotating Grip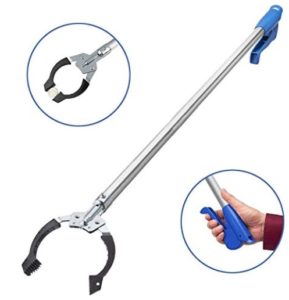 If you need to do a bit of pruning on the other side of your fence or in the interior section of a large plant or bush, then this unit is what you need. The reacher grabber comes in handy when you want to reach for things around the garden. It comes with a 37 inch and extra-long handle that can reach items both low and high. Also, the unique claw design is coated with premium rubber to provide optimal grip strength, and to make it simple to lift items. Equipped with a contoured handle and trigger, the reacher conforms to the natural shape of the user's hand.
Check Price on Amazon
Corona GT 3070 Extendable Handle Cultivator
With the Corona GT 3070 Extendable Handle Cultivator, you can easily cultivate most types of terrain. The GT 3070 best adaptive gardening tool features a unique twist and lock feature that keeps the handle conveniently tucked when not in use. Moreover, the unit has a heat treated and high carbon steel cultivator that can withstand tough use even on the toughest of soil. With the lightweight aluminum handle equipped with a chip and rust resistant coating, this handle cultivator is ideal for your gardening needs. It also has a comfortable and soft textured grip with a durable ferrule.
Pros
Comes with head fully treated for durability
Long-lasting coating to resists rust and chips
Strong and lightweight aluminum handle
Chip resistant carbon dioxide coating to eliminate corrosion
Cons
Somewhat heavy for some users
Takes some time to set up effectively
Check Price on Amazon
Dramm 14804 One Touch Rain Wand with One Touch Valve, 30-Inch, Green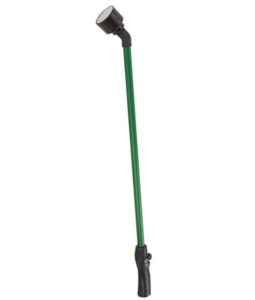 Equip yourself with the Dram 14804 One Touch Rain Wand with One Touch Valve. The unique one-touch valve makes it simple to water plants that need water delivery to the root or plants in the garden. This is so because the wand extends to reduce water splashing and to suit the needs of disabled users. It has been designed to provide gentle, full flow for quick and convenient watering benefits. Besides that, the unique design of this assistive device for gardening also allows for complete and total water flow control with just the touch of a button. The unique one-touch wand also saves water efficiently, while watering from one plant to the next. It also has a unique thumb control valve that is designed for ease of use, and to also be easy on your hands.
Pros
Offers gentle full flow for quick watering
Allows for enhanced and total water flow control
Saves water efficiently while watering from one plant to the next
Cons
It takes time to learn to learn using the wand
Check Price on Amazon
Tips & Tricks for Efficient Gardening from a wheelchair
If you are physically disabled, you can still maintain a flourishing and spending garden if you make good decisions. Consider these tips for gardening for wheelchair users:
Choose the appropriate tools-The first step in becoming a good gardener despite any physical challenges would be to purchase the correct tools. Some of the common tools include spades, shovels, garden hoses, just to name a few. The ideal gardening tool for such a process should be comfortable, simple to use and highly effective. Use platforms such as Amazon.com and product review blogs to gain more insight into meaningful products to add to your gardening regimen. Some excellent products such as the gardening seats for disabled require a bit of more research.
Get the appropriate work gear- Yes! Working on the garden involves getting right down and dirty. As such, you don't want to ruin your unique Tom Ford suit with mud and fertilizer. The appropriate gear for such a process would be to get overalls, gloves, boots and more.
Learn more about gardening- there are various information sources you can use to take your gardening prowess to the next level. They include blogs, magazines, social media groups, discussion forums and more. Make sure you consider these information sources and more because they help in keeping you updated.
Have a positive mindset- that`s right! Weeding tools for disabled require the right state of mind. The next step would be to put your mind in the right direction. Physical challenges might affect your gardening ability, but a positive mindset can overcome any such challenges. You need to enjoy the process of gardening, and the values such an activity teaches you in life.
Bottom Line
It is clear that gardening is an excellent form of leisure time activity. You get to learn several values such as discipline and hard work that you can apply in various other areas of life as well. However, to become an efficient gardener, you need to be well equipped and make decisions. Regardless of your physical ability, your garden can only flourish when you take the right steps. To be specific, users with physical challenges would consider investing in must-have gardening tools for the disabled.