Let's be honest, rocks are some of the best options when it comes to landscaping. But like any other landscaping product, a time comes when you have to get rid of them.
Sometimes, it's simply because you don't like landscape rocks; or you have extra rocks from the previous gardening; or because the ones you have do not align with your personal taste.
Regardless, disposing of landscaping rocks isn't as easy as dumping your usual dirt.
But here's the thing, if you have a good understanding of landscaping rocks, plus proper hand tools for landscaping, then getting rid of these rocks can be really easy. On that note, consider the tips I'm sharing here and implement them for better results.
Common landscaping rocks you may want to get rid of include; crushed rocks, pumice, pebbles, gravel, or river rock. Big rocks such as boulders can also be removed to allow room for gardening and other stuff.
But chances are, the rocks are covered in debris such as leaves, grass or soil. So, first thing first;
How to separate the rocks from debris
With each rock type on its own, pour water on the rocks to remove soil. For grass and leaves, just sweep or rake it all away. Alternatively, you can use a mesh-wire screen to sieve soil from tiny rocks. To get rid of gravel, use a rake to remove and spread it over the area. A shovel, on one hand, is good for scooping up tiny rocks or digging medium-size rocks. On the other hand, a wheelbarrow will help you move large quantities of gravel from your backyard to other areas of the compound – for example, your driveway.
How to dispose of landscaping rocks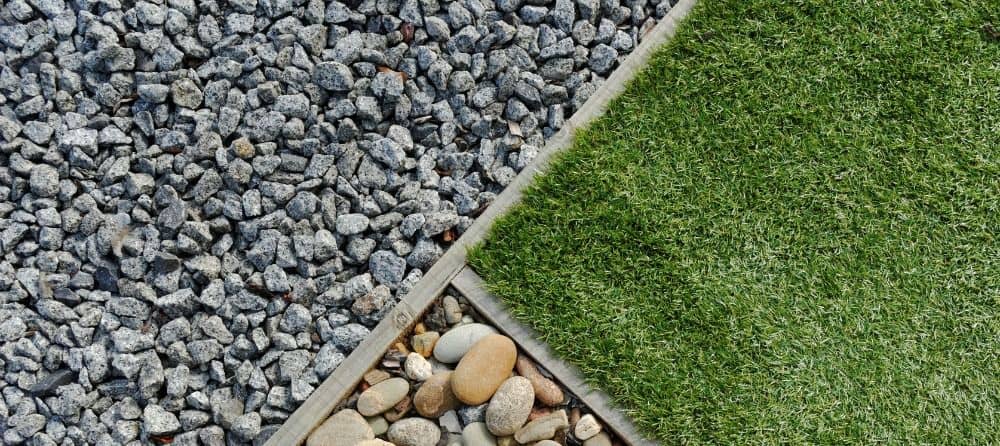 You can use any of the following methods to dispose of landscape rocks if you no longer need them.
Switch landscaping rocks with any other mulch that is best for your garden. Contact your local landscaping company to see if they'd be willing to have your rocks in exchange for mulch that suits your personal taste.
As it is, professional landscapers have a large client base, hence there's a huge chance they have the type of mulch you're looking for.
This way, you don't have to give away your landscaping rocks for free. Also, you don't have to spend money to get the type of rock that's best for your garden.
Read this too: When to Power Rake Your Lawn
Put rocks remains from the previous gardening into other uses –
There are varieties of landscaping rocks, which serve more than just one purpose. So, instead of hauling extra rocks to a landfill after gardening, do either one of the following;
Use pebbles river rocks to decorate your pavement or to fill your flower vase.
Beach cobbles have multiple colors, hence they are suitable for interior design.
Margo river rocks are not only good for decoration but also prevent soil erosion.
Landscaping rocks can also be used to create a captivating rock waterfall in the backyard.
Find a rock removal company
For big rocks such as boulders, seek professional help from rock removal companies. Usually, disposing of landscaping rocks doesn't cost a dime, because many landscaping and construction outlets take them for free.
Removing big rocks, however, is an exception since these need either cutting or drilling before they're disposed of.
And that's where companies come handy. The rock removal cost will depend on rock size and the area – could be a lawn, a basement, a hot tub or a custom pool.
Donate the Rocks
Other common ways to get rid of landscaping rocks include; donation to landscaping and building stores, free give away to other gardeners in Spring season, and offering them to family or friends who love landscaping rocks.
Contrary to popular belief, getting rid of landscaping rocks isn't and shouldn't be such a headache. As long as you have the correct hand tools, and you understand the type and value of the rock you want to dispose of, then disposing of landscaping rocks can be fun and smooth.