Outdoor lighting can be challenging, especially when you do not have the necessary wiring to use electric bulbs. This makes spending time outdoors during hot summer nights a nightmare. Seeing as barbecuing and roasting s'mores outdoors is almost mandatory during summer, it is essential to get some form of lighting for your outdoor patio or garden.
To save on electricity and installation cost, you should consider getting solar string lights. There is a certain level of ambiance that fairy lights bring that cannot be replicated using regular lighting. They seem to make dark summer nights feel more relaxed and fun. And to make them even more efficient, you should consider using solar-powered string lights.
Here are the best solar string lights
Top 5 Solar String Lights Of 2021
| Name | Length | Design | Price |
| --- | --- | --- | --- |
| Sunlitec Solar String Lights | 27 Ft | Classic Bulb | Check Price |
| Brightech Ambience Pro | 27 Ft | Vintage Edison Bulb | Check Price |
| Lyhope Solar String Lights | 20ft 30 LED | Crystal Ball Globe | Check Price |
| JMEXSUSS 2 Pack Solar String Lights | 100 LED 32.8ft | Fairy String | Check Price |
| Lemontec Solar String Lights | 20 Feet 30 LED | Water Drop Bulb | Check Price |
Sunlitec Solar String Lights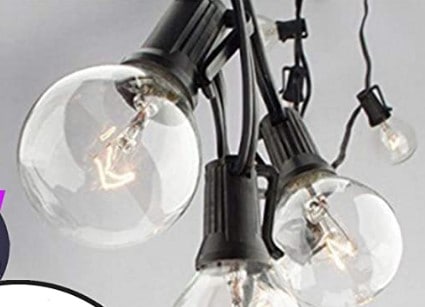 The Sunlitec decorative solar string lights feature 25 high quality LED bulbs that as resistant to rainwater and breakage. They have a 50,000 hours' bulb lifetime, and they have multiple lighting modes. The lights also feature a premium 3w/5v solar panel and a USB charging port. The cable length is 8200mm, and excess energy is stored in a 2000mAh/3.7v Li-ion battery.
The lights also come with a 1-Year warranty.
Features
3w/5v solar panel
USB charging port
8200mm string length
2000mAh/3.7v Li-ion battery
3,000 Kelvin color temperature
Bulb spacing: 10 inches apart
Pros
25 high quality LED balls
50,000 hours bulb lifetime
8 hours charging time
1-Year warranty
Cons
Check Price
Brightech Ambience Pro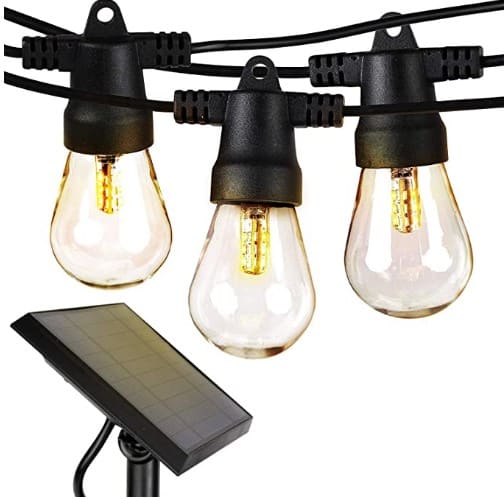 These reliable solar string lights can last 5-6 hours on a full charge after 6 hours of direct sunlight. They feature commercial grade weatherproof lights with shatterproof s14 bulbs. They are made using Weathertite technology to withstand winds up to 50mph, rain, and snow. The bulbs shatterproof plastic shells are heat resistant up to 122 degrees Fahrenheit.
The solar panel can be wall-mounted or mounted on a post. The lights have a flexible wire for a straight-line look or a scalloped look. The lights come with a 27-foot long cable, and the space between the 12 LED bulbs is twenty inches. The bulbs have a lifespan of 20,000 hours, and they produce a soft white light.
Features
5-6 hours on a full charge
3-year product warranty
Commercial grade weatherproof
Weathertite technology
LED bulbs last 20,000 hours
Light color: 3000k soft white
12 LED bulbs
20 inches apart
Pros
Shatterproof plastic shells
Heat resistant up to 122 degrees Fahrenheit
Easy to install
Cons
The light produced is too dim
Check Price
Lyhope Solar String Lights
The Lyhope camping string lights feature two switches, eight lighting modes, a light sensor, and memory function. The light's light sensor controls the solar crystal ball string lights auto on at dark and auto off at daytime.
The lights have an On/Off button and a mode button. The lights have eight different modes to satisfy your diverse needs. It also has an IP65 waterproof rating. It is also weather resistant. Additionally, a built-in memory chip saves your last mode setting eliminating the need to reset the mode when you use the lights next time.
The lights are easy to install and can be used for decorating passage, garden, patio, yard, lawn, fence, porch, roof, Christmas, wedding, holiday, party, and so forth.
Features
Color: Warm white
Number of lights: 30 LED
Solar panel: 2V 100mA
Rechargeable Ni-MH battery: 600mAh
Total length: 20ft
Lead cable length: 6.5ft
Length between 2 bulbs: 0.5ft
2*30 LED Globe Lights
2*Solar Panel with Ground Stake
Pros
Durable
Easy to use
Automatic lighting
Cons
The battery charge does not last long
Check Price
JMEXSUSS 2 Pack Solar String Lights
The JMEXSUSS patio string lights feature 100 LED bulbs on 32.8ft high-quality silver wire with a steady 360 degree viewing angle. The lights can be used for decorating your gardens, patio, yard, deck, stage, holiday, indoor, and other outdoor spaces. The bright lights create a classy and romantic atmosphere.
The lights have eight lighting modes: waves, combination, fading, fireflies, chasing, twinkle, fading slowly, and steady-on. The lights are made using flexible copper that can easily bend to create the shapes you want.
Additionally, the LED lights will not overheat after using them for prolonged hours. They are environmentally- friendly, durable, and safe to use.
Features
360-degree viewing angle
Eight lighting modes
Automatic switch
8-12 hours
Bulbs: 100led
Light color: multi-color
Wire material: pure copper
Space between LEDs: 10 cm/3.94 inch
Lead wire length: 200cm / 6.6ft
2x solar panel and stand.
Pros
Environmental- friendly
Durable
Safe to use
IP44 waterproof rating
High quality
Multifunctional use
Cons
The bulbs dim out when the battery charge runs out
Check Price
Lemontec Solar String Lights
These unique solar string lights create a lovely romantic mood that makes spending time outdoors fun and relaxing. They feature a solar panel, on/off button, twenty-foot cable, and thirty Led bulbs. The bulbs are spaced out twenty centimeters apart.
Check this too: Best Solar Christmas Lights
The lights have a 30-day trial period. They are environmentally friendly and do not require any maintenance. The bulbs produce 15 lumens of warm white light for optimal brightness, and they can stay on for up to 10 hours without becoming dim.
The lights come with a solar panel and a powerful battery. Lastly, the lights can be used for up to 5000 hours.
Features
On/Off Button
30 LEDs
Bulb spacing: 20cm Apart
20ft Cable
2v 1000mah Battery
Brightness: 15lux
Pros
Battery life: 10 Hours
Shuts Off Automatically
Lifespan Of 5000 Hours
Cons
They are not weather resistant
Check Price
Conclusion
The best solar string lights should be able to stay on for at least six hours per night. This will give you ample time to enjoy an excellent barbecue and extra time to spend by the firepit. It should also come with a solar panel and a good battery for storing extra solar power. The lights should also be weather-resistant to withstand exposure to sunlight, rain, and storm.