Going to a shed at night can be a little creepy, especially if you not have bright lighting. And since most sheds are situated away from the house, access to peripheral light is limited. Not to mention the hassle of connecting electricity to the shed. You will have to incur the cost of buying the extra wiring and fixtures. You may even have to hire an electrician to do the job.
So why not just opt for solar-powered shed lights? They will be cost-effective in the long run and are easy to install. Think of it as a twenty-first-century solution with a positive impact on the environment. Here are the best solar shed lights in the market currently.
LightMe Portable 130LM Solar Powered LED Bulb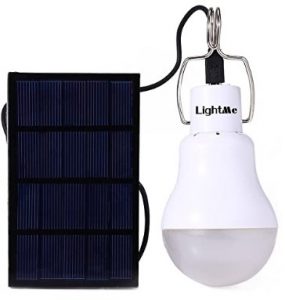 The Light solar powered shed lights feature a photovoltaic panel with a high solar conversion capability. It only requires 5-8 hours of charging to be able to operate optimally. The light comes with a chargeable battery that emits 130 lumens of bright light.
The solar light can be used in extreme weather conditions and are ideal for shed use or camping as well as other applications.
Features
Luminous Flux: 130LM
Color: Natural White
Sheathing Material: Plastic
The capacity of lithium battery: 850mah/3.7V
12pcs high lumen Epistar chips per bulb
8w/5v Solar photovoltaic panel
5m Connecting Line
Pros
Low power consumption
Bulb Using Time: 2-3 hours
Chargeable Bulb
Cons
The batteries drain pretty fast
Check Price
Designers Edge L-949 Rechargeable Solar Shed Lights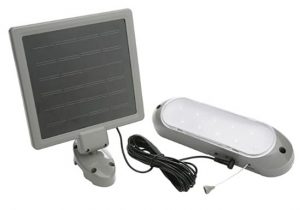 These extra bright solar lights have an unbeatable lifespan of 100,000 hours. They can be wall or pole mounted up to 16 feet away from the solar panel. The lights have to operation mode for full brightness and half brightness.
The lights come with a 16-foot cable for secure connection allowing you to move the solar panel around depending on the sun rays. The light can be used in sheds, garages, backyards, and other areas.
They come with three rechargeable AA batteries and a 2-year limited warranty.
Features
Solar panel
16-foot extension cord
10 LED bulbs
Three rechargeable AA batteries included
2-year limited warranty
Pros
Two setting options: full brightness and half brightness
100,000-hour lifespan
Wall or pole mounting options
Cons
Check Price
TeraLight SPC Solar LED Barn Light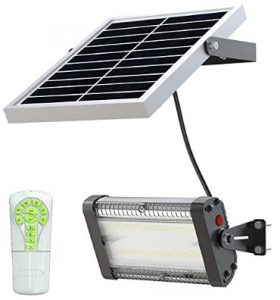 This solar indoor garage light features a big advanced Li-ion Polymer rechargeable battery with a long life. The battery retains 30%-50% more power than regular lithium-ion batteries. The light has an IP65 waterproof rating, and it can be used indoors or outdoors.
The light comes with remote control, timer, and energy level indicator. It also comes with 20 watts LED bulbs with a 2,000 lumens brightness flux. The lights can be used to illuminate a barn, shed, room, backyard, or parking area. Additionally, the light comes with a one year warranty.
Features
Li-ion Polymer Battery
IP65 Waterproof Rating
On/Off with remote control
2,000 Lumen
20 Watts of LED
Materials: Aluminum Alloy
Toughened Glass solar panel
Warranty: 1 Year
Pros
Multifunctional uses in Barns, Sheds, Backyards, and parking area
Sturdy Housing
Extreme temperature resistant (above 45°C or below 0 °)
Cons
The solar panel does not generate enough power to charge the battery to full capacity
Check Price
Afoskce Outdoor 130LM Portable Solar Powered Led Bulb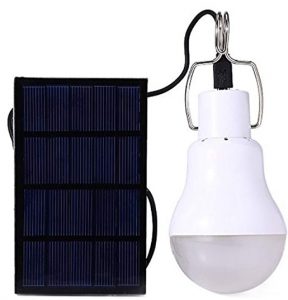 The Afoskce solar barn light is perfect for use on the go. You can use it in sheds, chicken coops, other animal enclosures, camping, hiking, and fishing trips. It comes with a chargeable bulb that enables it to be used even when you do not have enough sunlight.
The light features a photovoltaic cell solar panel that converts most of the absorbed solar energy into electricity. It also comes with a charger for use when you do not have access to solar power. The average lifespan of the solar light is 5000 hours, and it is weatherproof.
Features
Luminous Flux: 130LM
CCT/Wavelength: 5500-6500K
Color: Natural White
Sheathing Material: Plastic
8w/5v photovoltaic solar panel
5m Connecting Line
5-8V charger
Pros
Long lifespan: 5000hrs
Chargeable Bulbs
Energy efficient
Cons
The bulb fogs when it gets rains
Check Price
Solar Pendant Light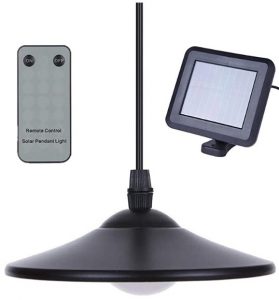 this solar pendant light has two control modes; using a remote control or using a pull chain switch. The light can be used inside the shed or outside. It is designed for multiple mounting options allowing it to be mounted on a wall or the shed roof or ceiling.
Check this too: Best Solar Christmas Lights
The light comes with a 3-meter long cable, four bright led bulbs, and a metal shade. It is made from high-quality stainless steel that is high temperature resistant and rustproof. It also has an IP44 waterproof rating.
The solar light also features a built-in lithium battery and a solar panel. It also has a night sensor that enables it to turn on when it gets dark automatically. The expected life span of the light is two years.
Features
Two control modes
3-meter cable
Built-in lithium battery
Premium stainless steel
Metal shade 160 * 60 mm
Four bright white led
Solar light life is over two years
IP44 water-resistant Rating
Color: black
Working time: 10-12 hours
Charging time: 6-8hours
Pros
Durable
High temperature resistant
Rust resistant
Cons
The solar panel is not resistant to heavy rainfall
Check Price
Conclusion
The best solar shed lights should be bright enough to illuminate the shed properly. They should also be able to conserve energy by consuming minimal power. The solar panel should also be able to convert most of the solar energy to electricity. The lights should also have a battery to store excess electricity. Lastly, if you are willing to spend extra money, ensure you get lights that have a motion detection sensor.