Are you looking to do a garden handover with a fountain but are discouraged by the thought of laying electrical wiring to power it? Why not consider getting a solar-powered water pump. This will save you some money as it does not require any extra installation for it to work. You can install it yourself, and you will not be incurring any energy costs in the future.
Not to mention a solar power water pump is eco-friendly. Doing your little bit for the good of the environment has never hurt anyone. With a solar-powered water pump, your dream garden can become a reality and at a fraction of the cost.
Here are the best solar-powered water pump kits in the market currently.
Top 5 Solar Powered Water Pump Kits
| Name | Type | Price |
| --- | --- | --- |
| Solatec Solar Fountain | Floating Fountain Pump | Check Price |
| Lewisia Solar Bird Bath Fountain Pump | Small Fountain Pump | Check Price |
| BACOENG DC 12V Farm & Ranch Solar Water Pump | Submersible Well Pump 26ft Lift | Check Price |
| Sunlitec Solar Fountain with Panel Water Pump | Fountain Pump | Check Price |
| Winkeyes Solar Fountain Pump | Fountain Pump | Check Price |
Solatec Solar Fountain
The Solatec Solar water pump is one of the best solar pumps in the market currently. It features four different nozzle heads, one solar fountain pump, and one big suction cup. The different nozzles have different spray patterns that help to change the height of water in different water patterns. The water can rise to 30-50 centimeters.
The pump can be used for birdbaths, fish tanks, irrigation, ponds, and water fountains. The shoe also comes with a one-year warranty.
Features
Four nozzle heads
Water height: 30-50 cm
Floating design
Long fishing line
Pros
Frostiness and weather-resistant construction
One-year warranty
Durable
Cons
Does not have an on/off button
Check Price
Lewisia Solar Bird Bath Fountain Pump
Due to its extra-long cable, this pump is perfect for different uses. The 10 feet cord allows you to put the fountain in the shade while the solar panel is under direct sunlight. It comes with multiple spray heads to customize the water patterns as you want.
The pump is easy to install and clean. It is also easy to move and configure for different uses.
Features
Cable Length – 10 feet
Solar Panel: 6V/1.5W
Brushless Pump Input: DC 4.5-10V
Maximum Water Flowing: 175L/h
Maximum Water Height: 55cm
Cable Length: 10 feet / 3m
Solar Panel Size: 5.5 x 5.1 inch / 14 x 13cm
Net Weight: 0.8lb / 0.36kg
Pros
Multiple Spray Heads
Easy to install and clean
Convenient to move
Cons
Does not work on low sunshine days
Check Price
BACOENG DC 12V Farm & Ranch Solar Water Pump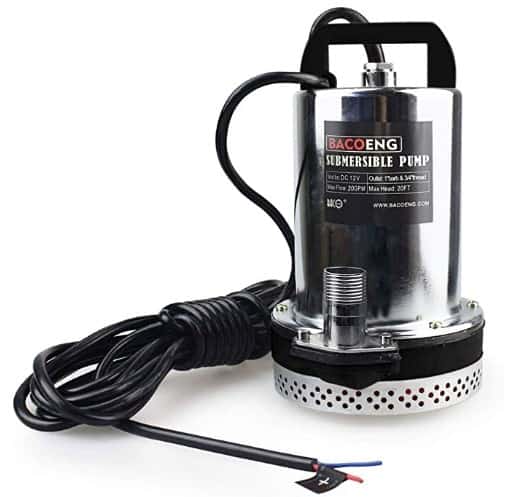 The Bacoeng solar powered submersible water pump has a voltage of 12V and a maximum flow rate of 26.4US.GPM. The pump has a maximum pump height of 26ft using a 25mm (1″) nozzle size. It has a simple structure with fewer components, which makes it easy to maintain and repair.
The pump delivers a stable performance suing less power cost. It is also anticorrosion due to its stellar construction.
It is made from stainless steel version: 59-68USD. The casing, screws, impeller, and filter screen are made of stainless steel. While the outlet is nickel-plated and the seal ring is made of NBR, which is wear and corrosion-resistant.
You can use the pump gardening and agricultural applications. It also as an option to switch to electricity during low sun days. It also has a battery for storing excess solar energy.
Features
Max Head: 26ft
Stainless steel casing
Outlet: iron and nickel plating
Diverse Power Supply
12V 100W solar panel
20A controller
70AH battery
Flow rate 20GPM
Pros
Simple structure
Easy maintenance and repair
Stable Performance
Diverse Use Scenarios
Cons
Needs full charge to operate efficiently
Check Price
Sunlitec Solar Fountain with Panel Water Pump
This solar-powered water feature pump is made of a highly efficient solar panel (1.8W) that is functional and provides 20,000 hours of power. It features a built-in brush-less motor with lower power consumption that lasts longer than other ordinary solar pumps.
The pump begins working within seconds of installation. It also comes with four kinds of spray heads for different water flows and water heights to prevent water splashing. Its maximum water height is 70cm (27.6inch), and it can cover a surface area of 150cm (59 inches). The height of water depends on the strength of the sunlight.
Features
Solar panel: 1.8w
Lifespan: 20,000 hours
Four spray heads
Max water height: 70cm (27.6inch)
Cord length: 9.5ft.
Max water area: 150cm (59 inch)
Pros
Highly efficient solar panel
Durable
East to install and use
 Cons
The pump stops working immediately; it becomes cloudy
Check Price
Winkeyes Solar Fountain Pump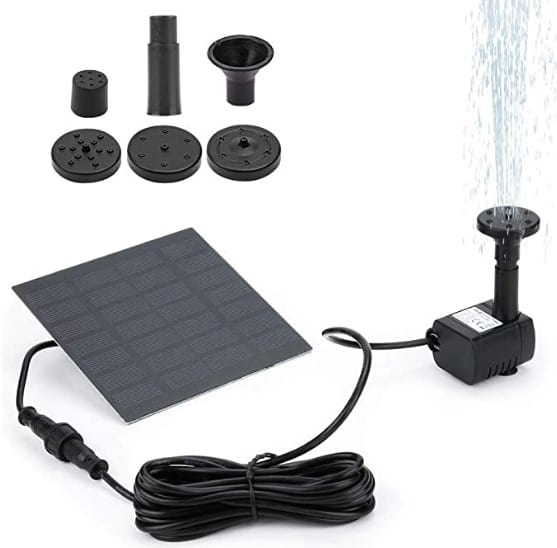 The Winkeyes solar fountain pump is designed for easy installation and use. All you have to do is float is in water, and it will begin working automatically in three seconds. As long as it is exposed to sufficient sunlight. The pump can be used for multiple applications: birdbath, fish tank, small pond, pool, water fountain, and many more.
Check this too: Best Batteries for Solar Lights
The pump has a built-in brushless motor for increased durability and stress-free operation. It comes with four types of sprinkler heads for different water flows and water heights. Its oil-free design prevents water contamination.
Features
Four types of sprinkler heads
Oil-free design
Maximum water height: 27.6inches
Power consumption: 12w
Material: PET
Pros
Easy to Use
Multiple Applications
Durable
Maintenance-free
Cons
The water pumped height level is minimal- more like a trickle
Check Price
Conclusion
The best solar-powered water pump kit should be able to pump water at a consistent pressure. It should function as a regular water pump without the extra energy bill cost. It should also be able to be sued in a variety of applications such as a pond, waterfall, fountain, irrigation, and so forth. Whichever option you pick, make sure you have the correct plumbing for it, or it can work for the application you want to use it.
Recent Posts
link to How to replace your yard grass
Replacing your yard grass means getting rid of the existing one then growing a new lawn.It's a three-part process–killing the grass, preparing the land, then planting the new grass.Give...
link to How to Care for a Calandiva Plant
Calandiva (Kalanchoe Blossfeldiana Calandiva) is a succulent native to Madagascar. It is loved for its appealing features, especially its ability to blossom for eight full weeks during early spring...