Ponds tend to get murky, which may, in turn, be harmful to the surrounding environment due to tp stratification. As such, it is critical to use a pond aerator from time to time to pump oxygen into the water. This will, in turn, increase oxygen supply in the water and consequently improve the pond's condition.
To achieve this and save yourself some money, consider getting a solar-powered pond aerator. This will save you the monthly energy cost you have to incur when you use the pond aerator. Here are the best solar powered pond aerators in the market currently.
Solariver Solar Water Pump Kit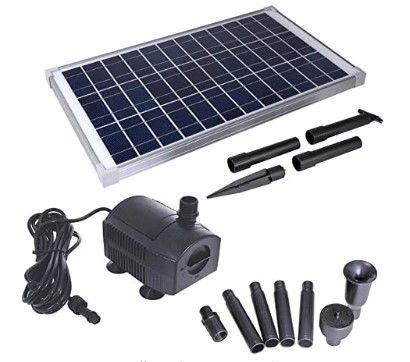 The Solariver small pond aerator is perfect for multiple functions. Like fountains, water features, ponds, hydroponics, aquaponics, greenhouses, rainwater collection, animal troughs, and natural pools.
It is durable and efficient, and it features a submersible brushless magnetic pump with a lifespan of 20,000+ hours.
The pump features an adjustable flow control, dry-run protection, and a removable pre-filter to prevent debris clogging impeller. It comes with a 20-watt solar panel with an aluminum shell and a stake.
Features
Maximum lift 6.5 feet
20-watt solar panel
Framed with aluminum
Pros
Adjustable flow control
Dry-run protection
Removable pre-filter
1-year warranty
Cons
The included battery is not long-lasting
Check Price
The Outdoor Shop Solar Pond Aerator/Oxygenator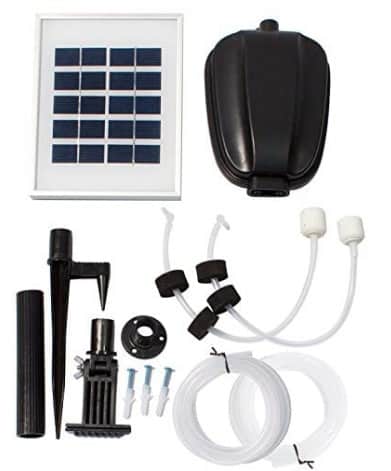 This solar pond air pump comes with a 3.2ft of cable for the remote solar station and 2 x 4.9ft tubes for airstones. It has zero operating costs, and it has an air rate of 48 GPH. The pump is suitable for small to medium ponds with up to 792.5 Gallons or 3000 liters of water.
The pump is easy to install, and it does not require any maintenance for it to work.
Features
2ft of cable
9ft tube for airstones
Air rate of 48 GPH
Pros
suitable for small to medium ponds
Simple to install
no running costs
Cons
Only works when the panel is placed under direct sunlight without a cloud overcast
Check Price
Beckett Corporation SAP1.5 Kit Beckett Solar Air Pump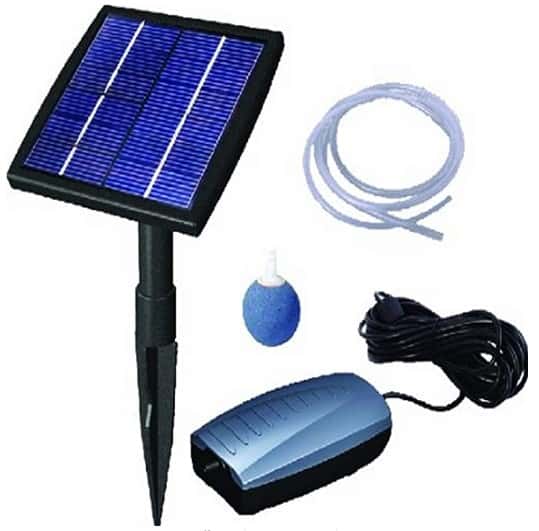 The Beckett solar air pump kit is designed to boost oxygen levels in outdoor ponds, fountains, waterfalls, and even fishing coolers. It pumps oxygen into the water, which helps to create a healthy environment for fish and plants. It is ideal for small bodies of water.
The air pump is easy to operate. It is ideal for remote locations that do not have access to a standard outlet.
The installation kit comes with 6.5 feet of tubing, a diffuser stone, a 9.5ft power cord, a 1.5-watt solar panel, and a submergible air pump. It also comes with a 1-year warranty.
Features
Sunlight exposure: full-sun
Air hose- 6.5
5-watt solar panel
Power cord -9.8.'
Pros
Submergible air pump
1-year warranty
Durable
Cons
Bubbles produced are barely noticeable
Check Price
Lewisia Solar Air Pump Kit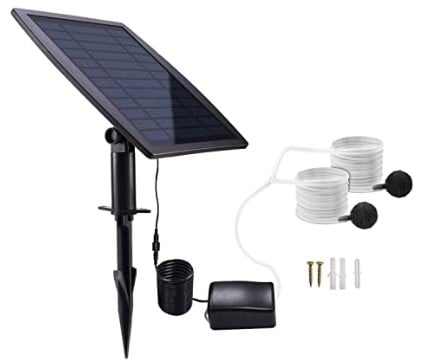 The Lewisia solar-powered fish aerator has three working modes; strong setting, gentle setting, and on/off cycle. It features a built-in battery that allows the aerator to continue to work after the sun goes down. It can run for up to 20 hours when fully charged. It comes with a 10 feet cord, two tubing, an instruction manual, two air stones, a stake, and a solar panel.
Check this too: Best Solar Powered Water Pump Kits
The aerator panel can be adjusted for maximum sunlight absorption. Lastly, the aerator is easy to set up and use.
Features
Three working modes
Solar panel: 2.5W
Battery: 18650 Li-ion 3.7V 1800mAH
Working time on fully charged battery: 20 hours
Air Hose Length: 3.28ft / 1m
Cord Length: 10ft / 3m
Pros
Adjustable angle
Easy to set up
PET laminated
Cons
You need to replace the battery if you want it to work effectively
Check Price
Conclusion
The best solar powered pond aerator should be able to pump water while aerating it at the same time. This movement prevents the growth of algae, or bacteria, and other harmful pathogens due to water stagnation. It also makes the pond inhabitable by organisms. If in doubt, go for one of the options reviewed above to serve your pond aeration needs.