Summer is already here and we know what that means for those living in woods or camping. Insect season is here. These small creatures that constantly irritate and plague us increase during the summer but that does not mean we have to put up with them. A solar powered bug zapper comes in handy as they help reduce these insect swarms and having one or two should definitely be part of your plan.
You can get a solar powered bug zapper just about anywhere. Why solar when you can use a rechargeable one? The solar powered bug zappers are great for a number of reasons. They are eco-friendly as they don't need any energy from the grid and that means there are no toxic emissions to the environment. They are also portable with no wiring needs and lightweight. They are pocket friendly and do not need electricity to function, just like any other solar powered appliance.
Solar powered bug zappers have photovoltaic solar cells made of silicon to draw solar radiation that when used with electrical equipment converts the energy and translates it to your electric appliance. Choosing the best solar powered bug zapper can a tough hunt because they have low reviews and getting sufficient power to run the zapper full-time is almost impossible with the tiny panels they have. People also often install then in shaded places. In this review, we have a few options picked out to help in your search.
Top 5 Solar Powered Bug Zappers
| Name | Price |
| --- | --- |
| Sandalwood Solar Powered UV Bug Zapper and Garden Lamp | Check Price |
| MeetUs Solar Power Mosquito Lamp | Check Price |
| Pure Garden Solar Powered Light and Bug Zapper | Check Price |
| BATTOP Solar LED Lamp and Bug Zapper | Check Price |
| Lixada Solar Powered LED Light Electric Lamp | Check Price |
Sandalwood Solar Powered UV Bug Zapper and Garden Lamp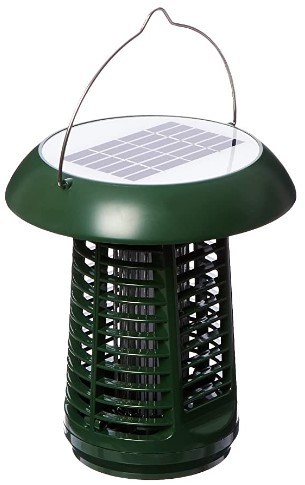 This bug zapper from sandalwood is an ideal outdoor solution for pesky flies and mosquitoes. The ultraviolet light at the center attracts the insects and its electric field instantly zaps them. It has a bug removal tray at the bottom for easy cleaning and conveniently has a range of over 3000 square feet. This is a reliable bug zapper making it one of the best solar powered bug zappers.
Features
UV zapper lamp
8 bright LED bulbs for great illumination for outdoors
Integrated solar panel powers zapper from the sun
UL charger included
Hanging string and stake included for a garden installation
CE,FCC and ROHS certified
Runs for up to 15 hours as a bug zapper and 30 hours as a lamp when fully charged
Pros
Easy to setup.
Great performance.
Good brightness.
Light in weight.
Value for money.
Easy to clean.
Cons
Will not work until it is fully dark outside.
The light bulb does not give off an attractive enough light to lure the insects.
Does not work during the day hence not great for daytime outdoor activities.
Check Price
MeetUs Solar Power Mosquito Lamp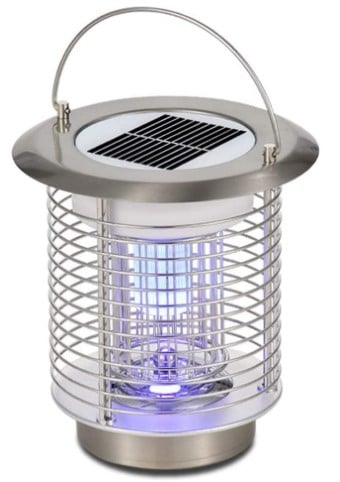 This lamp can be used for both indoor and outdoor spaces. It is multifunctional as it can be used as a solar light and a mosquito catcher. It is super safe and mute to your body. For best function of this lamp, close any other light source when you use the trap function.
Features
Solar powered and USB cable charging
With handle that makes it flexible to carry
Simple switch
Heat resistant specification
Made of stainless steel
Charge time: 5 hours , Working time: about 24 hours
Pros
Energy saving.
Environmental friendly.
Convenient and durable.
Good performance.
Resistant to high temperature exposure.
Easy to install and use.
Comes with a 12 month warranty.
Cons
Not good quality.
Does not give value for your money.
Still mosquito presence even after attracting them to the lamp.
Not as effective.
Check Price
Pure Garden Solar Powered Light and Bug Zapper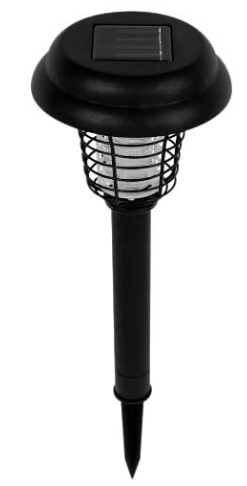 This is one of the best solar powered bug zapper options. It is an efficient bug zapper and allows you to enjoy the outdoor without pesky flying mosquitoes. It is built to be weather resistant as this light can withstand extreme weather conditions. In addition to your home or patio, it is also great for camping, picnics, and other outdoor activities.
Features
Energy saving low voltage LED bulb
Multi-use
Stores up to 8 hours LED light and uses UV light to attract insects
Rechargeable battery included
Pros
Safe and durable.
Environmental friendly.
Easy and effective.
Light in weight.
Easy to clean.
Value for your money.
Satisfaction guaranteed.
Cons
Stops working efficiently after some time.
Made of more plastic than metal which is a poor electrical conductor.
Check Price
BATTOP Solar LED Lamp and Bug Zapper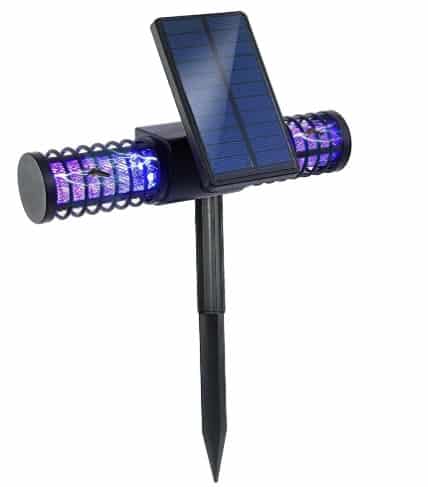 This lamp and bug zapper has a new design, larger watt, and size which enables the instantaneous killing of mosquitoes and bugs quietly. It can store enough power to last for about 6 to 8 hours when fully charged. Once set up, cover the solar panel surface when you need it in daylight. It automatically switches on at dusk and off at dawn. Best protect are should be no more than 8-12 feet from human activity. The mesh should be cleaned of any debris before using it. For better performance, the solar panel's protective film should be removed and made to face the sun directly. The USB cable can be used to charge it in case of bad weather
Features
Large capacity lithium battery
Has a ground stake
Larger 5.5V 5W solar panel
Working mesh size 1.9×3.9 inch
USB charging cable
Pros
Light in weight.
Easy to install.
Cons
Not worth your money.
Not durable.
The bulb lights are dim.
Does not last all night.
Check Price
Lixada Solar Powered LED Light Electric Lamp

This solar powered bug zapper is suitable for gardens, lawns, porches, camping, hiking, and more. The lamp with sun storing electricity efficiently prevents mosquito invasion. The lamp should be placed in a sunny area to absorb sunlight directly for 8 hours. The ground should be soft enough before sticking the solar lights into it to avoid breakage.
Features
Made of monocrystalline silicon solar panel
Two modes to choose from. White light for garden lighting and purple for the mosquito killer lamp
Can be staked into the ground or hang somewhere as it has a hook
Pros
No wiring required.
Easy to assemble.
Value for your money.
Good battery life.
Cons
Not good quality.
The UV mode does not last the night after charging all day.
Check Price
How Efficient are Bug Zappers?
Bug zappers are very efficient in killing a number of bugs. Lots of insect control studies and research have been done to prove this but not all of them. They are not that effective against mosquitoes and other biting flies as UV light does not attract them.
Can You Leave a Bug Zapper On All Night?
Yes, a bug zapper can be left on all night as it is more effective that way as long as it is fully charged during the day under direct sunlight. It however can be more efficient if it can function 24/7 to help break the insects' cycle.
What Bugs Do Bug Zappers  Attract?
Most insect zappers are non-discriminate killers since most insects are attracted to light. The zapper can get almost any bug as long as they are bugs you do not want around. They include:
Moths
Beetles
Ants
Midges
Wasps
Bees
 Do Bug Zappers Keep Mosquitoes Away?
Based on the research that has been carried out, bug zappers are very inefficient for killing mosquitoes as they are not attracted to the UV lighting that is mostly used on the lamps. Basically there is no guarantee that it won't work against them at all but it will not be of much help.
Bottom Line
Before choosing the best solar powered bug zapper, there are a few factors to keep in mind. The wattage of the bug zapper is extremely important as most bug zappers don't list this and that can make the efficiency a bit tricky especially if you live in an area that is heavily infested with bugs. The length of time the bug zapper lasts is important as well. The quality of the bug zapper is important as it determines the effectiveness.
Check this too: Best Solar String Lights
The price of the bug zapper is also important because you want to get something that is worth your money. Most companies in the market will always claim theirs is the best bug zapper but what you get says otherwise. Putting your budget in mind before making the purchase is necessary as you want to make an investment that you will be happy with and will serve you a great deal. We recommend the Sandalwood Solar Powered UV Bug Zapper and Garden Lamp for your bug zapper hunt overall.