Floodlights are outdoor lighting fixtures that illuminate large areas at night. Solar flood lights collect sun energy using solar panels and store it in a rechargeable battery that uses the energy stored at night to illuminate an area. They are energy efficient and save on electricity bills. They also do not depend on electricity and they still illuminate a place even when there is no power.
There are many solar flood lights in the market and they vary based on many factors like size, durability, energy efficiency among others, depending on your preference. Luckily, we have recommendations for some of the best solar flood lights in the market.
Top 4 Solar Flood Lights in 2021
CLY 60 LED Solar Lights
This is a dusk to dawn solar flood light in that its lights sensor automatically turns on at dusk and turns off at dawn. It is ideal for lawns, gardens, and patios. If the sunlight is not too strong, the battery may not charge fully and the brightness will be affected by this. They usually charge fully under direct sunlight for 6 to 8 hours before use.
Features
Light sensor.
IP66 rating for waterproofness.
Two easy ways to install.
Rechargeable and replaceable solar panel.
60 super bright solar LED.
Pros
Easy install and wide application.
Value for money.
Great brightness.
Cons
The strength of light fades after some time.
Still lets in water when it rains.
Batteries can explode.
Check Price
Sunforce 120 LED Triple-Head Solar Motion Flood Light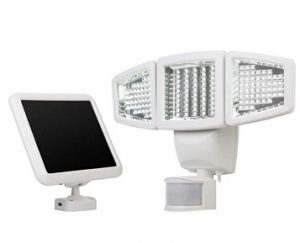 This solar flood light has an amorphous solar panel that charges in all daylight conditions. It does not need direct sunlight. The solar landscape flood lights are fully weather resistant and can be mounted almost anywhere. The light turns on automatically when motion is detected. Illuminates any dark area hence enhancing security.
Features
Adjustable side lamp heads.
Ideal for all locations.
Charges during the day and works at night.
2 adjustable settings: detection distance and light duration.
120 LED motion light.
Pros
Easy to install.
Bright solar powered floodlight.
Value for money.
Motion detection.
Cons
The motion sensor does not work in all modes. ( 30secs/1 minute)
Light sensors are not that sensitive and may require total darkness to work.
Water still infiltrates when it rains.
Check Price
HULPRE Solar Flood Lights
This solar light is great for the garden, porches, garage, and pool areas. It is made of aluminum and has an IP65 waterproof design making it perfect in all weather conditions. Works with different modes, lighting hours and brightness intensity, adjustable with a smart remote.
Features
Unique AUTO mode design.
Lighting time and brightness settings.
Long-range remote control distance.
Sturdy made and waterproof.
4 extendable cord.
Pros
Easy to install.
Great brightness.
Motion detection.
Lights up an area all night.
Cons
Brightness may be dim if batteries do not charge fully.
Water still infiltrates the solar light.
Needs to be unplugged from the solar panel to work.
Check Price
Cyberdax 100W Solar Flood Light
This is another one of the best solar floodlights. It is an outdoor pole in a plaza, parks, pathway, and streets. It is also environmentally friendly as it does not pollute the environment and energy saving. It has an in-built Lithium iron phosphate battery that has high-temperature resistance and a long lifespan.
The solar panel should be placed where it can receive maximum sunlight directly. Illumination depends on weather, seasons, places, etc. It needs 6 to 8 hours to charge fully. Its waterproof level is IP67.
Features
High power 100W solar panel.
Remote control for adjustment convenience.
Battery and charging that works up to 10 hours.
Pros
Easy installation.
It has 18 months warranty.
Greta brightness.
Value for money.
Perfect motion detection.
Cons
Stops working after some time.
Water still manages to infiltrate the solar light.
The remote is cheaply made and inefficient.
Manual is not that helpful when it comes to installation.
Check Price
 Conclusion
There are various things to consider when looking for the best solar floodlight. The key factors that make a great solar flood light are illumination intensity, battery life, quality of the solar light, weatherproof capability, and of course price. It is also great to look at the manufacturer of the fixtures.
Check this too: Best Solar Fence Charger
This determines the reputation and the longer they have been in the market, the better. It is also important to check whether they provide warranties and battery replacements in case of any fault. This goes a long way in giving you value for your money. For the best solar flood light for security, we highly recommend the Sunforce 120 LED Triple-Head Solar Motion Flood Light.