If you enjoy stargazing, then deck lights are a mandatory addition to your patio or deck for nighttime illumination. They are also great for a hot summer night when you are having are a barbecue instead of cooking indoors. Not to mention the needed nighttime lighting for when you get home late. The last thing you need is having to fumble with your lock and keys at night without proper lighting.
Deck lights can consume a tone of energy, especially if you have them on all night. To save money on your electricity bills, you may want to switch to solar-powered deck lights. Or just go for a solar-powered option from the get-go.
That said, here are the best solar deck lights of 2021.
Name
Light Time
Operation
Price
URPOWER Solar Lights
Up to 12 hours
Motion sensor
Dim Mode

Check Price

Aootek 182 Led Solar Light
6 to 12 hours
Motion sensor


Check Price

Neloodony Solar Lights
Up to 12 hours
Motion sensor
No Dim Mode

Check Price

Davinci Solar Post Lights
6 to 8 hours
Dawn/Dusk sensor

Check Price

JACKYLED B00M4ZTS84 Solar Lights
Up to 12 hours
Night path backlight

Check Price
URPOWER Solar Lights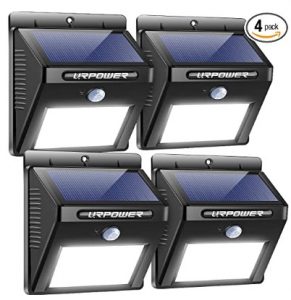 The Urpower bright solar deck lights are waterproof and heatproof. They use a rechargeable lithium-ion battery to power Led lights. The lights feature a motion sensor that can detect motion from 10 feet at a 120-degree angle.
The Led lights have a five-year lifespan or 50000 hours. And the battery can be fully charged in 6-8 hours. The lights can be used to light up your garden, yard, aisle, porch, patio, or driveway.
Features
IP64 waterproof rating
PIR Motion Sensor
Night sensor:10Lux Auto identify day or night
Rechargeable battery: 3.7V 900mAh
LED quantity: 8 LEDs
Motion Sensor: up to 3 meter and 120-degree detection range
Pros
Heatproof
Five years – LED Life Span
Easy to install
Cons
Motion detector only works when you get very close
Check Price
Aootek 182 Led Solar Light
These Patio lights have three optional operating modes. Option one uses a motion sensor to turns the light on and off automatically. Option two is permanent on all night, whereby the light stays on till dawn. And option three it the smart brightness control whereby the light stays all night and turns brighter when it detects motion.
The lights feature a sensitive PIR Motion inductor that uses a motion sensor detector and a PIR sensor that can detect people up to 26 feet within a 120 degrees angle. The lights have a 2200 mah rechargeable lithium-ion battery that is long-lasting.
Features
Motion Sensor Detector
PIR sensor
PET laminated solar panel
LED lights
Pros
Wide-angle illumination
Waterproof
Heatproof
Cons
Controls are hard to reach when the light is mounted
Check Price
Neloodony Solar Lights
These solar deck lights feature 28 LED beads that provide excellent illumination of up to 400 lumens.  The lights measure 5.1*4.3*2.7 inches and are only 6.77 ounces. The lights give a bright light that provides security for your home. The lights feature a lithium-ion battery that can work all night from just 6-8 hours of charging during the day.
The lights also feature a smart Solar Motion Detector, which will automatically turn on the lights in the darkness. The motion detection range is 10-16 feet away with a 120°angle. The light also lights up for 30 secs and then shuts off until it detects the next motion.
The light is easy to install and is certified by TUV, CE, RoHS, and FCC test. It is made of high-strength ABS that is IP65 waterproof and heatproof.
Features
28 LED beads
Brightness: 400 lumens
Li-ion battery
Smart solar motion detector
Wireless
Certified by TUV, CE, ROHS, FCC test
Material: high-strength ABS
IP65 waterproof rating
Heatproof
Pros
Easy to install
Weatherproof
Durable
Cons
Minimal conversion of solar power to electricity
Check Price
Davinci Solar Post Lights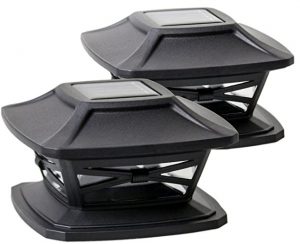 The Davinci waterproof solar deck lights offer an easy and affordable way to illuminate and up-scale the aesthetic of your home at night. The deck lights use 15 lumens LED bulbs to emit a warm white light that is not too harsh to the eyes. The lights can be mounted on 4 x 4 or 6 x 6-inch wooden posts.
They are made from industrial grade plastic with UV fade protection. The solar panels are made of hardened, tempered glass that is weatherproof. The light's LED bulbs can last up to 100,000 hours. The lights are automatic, and the turn on when it gets dark. The monocrystalline solar panels charge a 3.2v 300mAh lithium-ion rechargeable battery. That can hold up to 8 hours of power from a single day of direct sunlight charging.
Features
Brightness: 15 lumens
IP44 waterproof rating
Advanced monocrystalline solar panels
2v 300mah lithium-ion rechargeable battery.
Built-in photosensor
Weatherproof
Pros
UV resistant
Easy to install
Wide-angle LEDs
Cons
Brightness varies depending on the amount of charge
Check Price
JACKYLED B00M4ZTS84 Solar Lights
The JackyLED solar deck post lights use premium quality LEDs to light up your deck, patio, driveway, or balcony. They have an IP68 waterproof rating. The LED bulbs are made from high-quality poly-carbonate LED lights, and the solar panel is made from monocrystalline silicon that can withstand up to 20 tons of pressure. Making them hard enough for use on driveways. Each light has 6 LEDs that emit a bright light that is visible for more than 875 yards away.
Check this too: Best Solar Powered Bug Zapper
The lights have a 60-day trial period, and they have a 1-year warranty.  They also have a built-in 600maH AAA batteries, and a durable Cast Aluminum outer shell that is waterproof, dust-proof, anti-rust, and anti-deformation.
Features
Solar Panel: 2. 5V/100mAh high-quality monocrystalline silicon
Rechargeable battery: 1. 2V/600mAh AAA
Working Time: 72 hours on 8 hours' charge and 100 hours on a full charge
LED: 6 pcs 5mm
Visual range: > 875 yards
Lumen: 400-500lm
Life Time: 3-5 years
Working Temperature: -20℃-70℃
Material: aluminum die Casting + PC
Static Compressive Capacity: up to 20 tons
Size: 110*97*24mm
Weight: 300G/unit
Pros
Ultra-bright antifogging LEDs
UV resistant
High-temperature resistant battery
Yellowing resistant
Waterproof Rating: IP68
 Cons
Battery charge does not last all night
Check Price
Conclusion
The best solar deck light should be weather resistant, bright enough to make hanging out outdoors during starry nights and hot summer nights adequately illuminated, and durable. If you can, spring for deck lights that have a motion detection sensor. This will enable you to save power, as they will only come on when an individual is nearby.