When using solar power, it is crucial to get a solar charge controller to regulate the energy being released into your grid. Basically, a controller acts as a regulator that delivers electricity from the solar panel's photovoltaic cells into your electric home grid.
It is like the gatekeeper that prevents shorting due to fluctuations in the electric voltage and prevents your solar batteries from getting fried by fluctuating power amps. Inconsistent power strengths can shorten their lifespan. Which will dent your pocket on account of how expensive solar batteries are. That said, here are the best solar charge controllers in the market.
Top 5 Solar Charge Controllers Under 40A
| Name | Type | Current (Amps) | Connectivity | Price |
| --- | --- | --- | --- | --- |
| Victron SmartSolar MPPT 100/30 | MPPT | 30 | Bluetooth, | Check Price |
| EPEVER Tracer4215BN | MPPT | 40 | Remote MT50 LCD display | Check Price |
| Renogy Rover 40 Amp | MPPT | 40 | Built-in LCD display, Optional Bluetooth | Check Price |
| RICH SOLAR 20 Amp | MPPT | 20 | Built-in LCD display, Optional Bluetooth | Check Price |
| Renogy Wanderer 10 | PWM | 10 | Built-in LCD display | Check Price |
Victron SmartSolar MPPT 100/30
The SmatSolar MPPT Charge Controller can be controlled remotely. You can monitor your SmartSolar MPPT charger using its built-in Bluetooth via VictronConnect.
The Victron SmartSolar charge controller can recharge a severely depleted battery. It can also operate with a battery voltage as low as 0 Volts.
Its MPPT technology ensures that every drop of available power is rinsed out of your panels, and harvested for storage.
Features
Remote control
Built-in Bluetooth
MPPT technology
Pros
Durable
Can be monitored from your PC
Compatible with multiple battery types
Cons
Check Price
EPEVER Tracer4215BN
The EPEVER Tracer4215BN charge controller is equipped with an advanced MPPT control algorithm with an efficiency rate higher than 99.5%.you can use it with up to five 12V solar panels. It is compatible with Lead Acid Batteries, Sealed AGM GEL, and Flooded Battery.
Additionally, its user-mode allows the buyer to set their charging parameters. The controller has an RS-485 communication bus interface and Standard MODBUS interface to meet various communication requirements, temperature sensing, and remote monitoring.
Features
USB to RS485 Converter Adapter
Negative Grounding
Metal Case
4 Stage Charging
Advanced Maximum Power Point Tracking (MPPT) technology
Built with advanced power tracking technology
MT50 Remote Meter
Battery Temperature Sensor
PC Communication Cable
Pros
Support 4 charging options: Sealed, Gel, Flooded and User
Efficiency rate: 99.5%
smart tracking algorithm
Wide LED screen
Cons
The voltage discharged is unsteady
Check Price
Renogy Rover 40 Amp
The Renogy Rover solar charge controller automatically detects 12V or 24V DC system voltages. It is equipped with innovative MPPT technology with high tracking efficiency up to 99% and peak. Its conversion efficiency is 98%.
It is made of die-cast aluminum, which is excellent for heat dissipation. It can also measure the battery's temperature. The controller can be programmed as per your power needs.
The controller can also be sued to charge over-discharged lithium-ion batteries.
It is also compatible with various Deep Cycle battery options: Sealed, Gel, Flooded, and Lithium.
Features
RS232 Communication Port
Temperature Sensor
non-polarized wires
Rated Battery Current:40A
Rated Load Current:20A
PV Input Short Current:50A
Battery Voltage:32V
Solar Input Voltage:100VDC
Charge circuit voltage drop:≤ 0.26V
Pros
Easy to use LCD Screen
Multiple LEDs
Durable die-cast aluminum shell
Cons
The wire ports are fragile
Check Price
RICH SOLAR 20 Amp
The Rich solar charge controller is compatible with many deep cycle batteries: Sealed, Gel, Flooded, and Lithium. It detects 12V or 24V DC system voltages automatically. It uses innovative MPPT technology with high tracking efficiency of up to 99%. It has a conversion efficiency rate of 98%.
The controller is equipped with electronic protection against overcharging, over-discharging, overload, and short circuit. It also has reverse protection.
The controller is housed in a die-cast aluminum shell with excellent heat dissipation tendencies. It has the capability of measuring the battery's temperature and remote monitoring. It also has customizable charging voltages.
Features
MPPT technology
LCD screen
Die-cast aluminum design
Rated Battery Current: 20A
Rated Load Current: 20A
PV Input Short Current:25A
Battery Voltage: 32V
Solar Input Voltage: 100 VDC
Pros
Compatible with various Deep Cycle battery options: Sealed, Gel, Flooded, and Lithium.
High tracking efficiency
Multiple LED indicators
Diverse load control
Cons
The manual instructions are difficult to follow
Check Price
Renogy Wanderer 10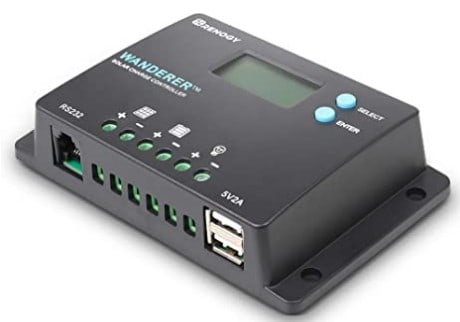 The Renogy PWM charge controller is suitable for a 12V/24V system. It can also work with Deep Cycle Sealed (AGM), Gel, Flooded, and Lithium batteries.
This smart, 4-Stage PWM charge controller increases battery life and improves system performance. It is equipped with intelligent protection against reverse polarity, overcharging, short-circuit, and reverse current. It features a backlit LCD screen that displays system operation, diverse load control, and error codes.
The controller has integrated 5V 2A USB ports to charge USB devices. Its compact size makes it easy to install virtually anywhere. It is capable of charging over-discharged lithium batteries. And its RS232 port allows it to connect with BT-1 Bluetooth modules and sync with the Renogy BT smartphone app.
Features
Rated Charge Current: 10A
Max Gauge Size: Up to 12AWG
Self-Consumption: <10mA
PV Input Voltage: 50 VDC
LCD Screen
Select Button
Enter Button
USB Ports
Load Terminal
Battery Terminal
PV Terminal
RS232 Communication Port
Pros
Durable
Easy to use
Easy to install
Cons
The output voltage is not regulated
Check Price
Conclusion
The best solar charge controller should stabilize power being emitted into your batteries or your electric system if you have a direct connection. Failure to do so may lead to losses in thousands, especially if your batteries or other electronics are destroyed. Look for a highly reviewed option to be sure that it delivers on this front.
Recent Posts
link to How to replace your yard grass
Replacing your yard grass means getting rid of the existing one then growing a new lawn.It's a three-part process–killing the grass, preparing the land, then planting the new grass.Give...
link to How to Care for a Calandiva Plant
Calandiva (Kalanchoe Blossfeldiana Calandiva) is a succulent native to Madagascar. It is loved for its appealing features, especially its ability to blossom for eight full weeks during early spring...