Summer tends to turn homes even in the least arid regions into walk-in ovens that are nearly impossible to inhabit. Unless you have your air conditioning unit running 24 hours a day. To remedy this situation, you need to get more air cooling fans or air conditioners. One key area people fail to consider when it comes to cooling their houses is an attic fan.
This goes a long way in ensuring your house does not retain heat in the roof, which cancels the effect of your air conditioning. A great option would be to get a solar-powered attic fan. This will help to reduce your energy bill by tapping into the sun instead of your electricity.
Here are the best solar attic fans in the market currently.
Amtrak Solar's Solar Attic Fan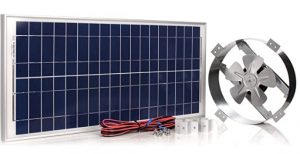 This reliable solar attic fan features a 14-inch fan housing and a 10″ highly efficient fan blade. The fan is easy to install due to its quick-connect wires.
It is ideal for attics, greenhouses, garages, or RVs. It also comes with 15′ of extra wiring and brackets.
It has a thermally protected fan motor, and it can cool areas up to 2250 square feet. The fan also features a 40-watt solar panel. The installation package provides four Z shaped brackets for mounting the solar panel. A free optional thermostat is included in the package upon request.
Additionally, you do not need to cut through your roof to install it.
Features
10″ High-Efficiency fan blade
Thermally protected fan motor
40-watt Solar Panel
12 volt DC fan
14-inch housing
Pros
Comes with 15' of extra wire and brackets
Ventilation area, 2250 Sq. Ft
Solar panels come with four mounting brackets
Cons
Check Price
Natural Light Solar Attic Fan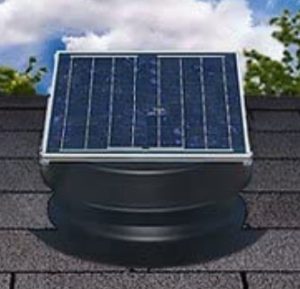 This fan comes with a 25-year limited warranty on the entire unit and is rated one of the industry-leading solar attic fans. It is made of high-quality materials, and it features a DC motor and a 36-watt solar panel. The fan is easy to install, and no wiring is required. You may need to get a thermostat for use in colder climates.
The fan also comes with all the necessary installation hardware. The attic fan can be installed on pitched Fiberglass-Asphalt Shingle roofs.
The solar panel can be adjusted up to 45 degrees, and it can be mounted on 3/12 to 12/12 pitch roofs. Can are ideal for attics up to 2625 square feet of attic space. They output up to 1628 cubic feet per minute under full direct sun.
Features
25-year limited warranty
Easily installed
DC motor
36-watt solar panel
Cooling Area: 2625 square feet
Pros
No wiring required
Optional snap-on thermostat
The solar panel is adjustable
Cons
Can only cool a small area
Check Price
iLIVING Smart Exhaust Solar Roof Attic Exhaust Fan
This Roof attic comes with smart thermostat control with an enable/disable feature. It has an IP68 waterproof rating. The fan features a brushless motor, adjustable 20W polycrystalline solar panel, ventilation fan, and a screen guard.
It comes with a 15-year warranty, and it can cool up to 2000 square feet.
Features
Smart thermostat control
Brushless motor
15-year warranty
Wattage: 20w
1750cfm
Cooling Area: 2000 square feet
Ventilation fan
AC/DC adapter
Polycrystalline solar panel
Temperature range 65-1300F
Pros
IP68 waterproof rating
Adjustable solar panel
Compatible with a screen guard
Cons
Check Price
Broan 345SOWW Surface Mount Solar Powered Attic Ventilator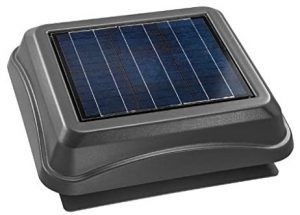 The Broan surface mounts attic ventilator is one of the topmost reviewed solar attic fans on Amazon. The 28-Watt solar-powered attic ventilator converts sunlight into electric power. It outputs a maximum of 537 CFM all year-round.
The fan features a 12-Inch diameter, a one-piece aluminum 5-blade fan that is pitched for maximum airflow. It also features a direct-current motor that is dynamically balanced for superior performance and silent operation.
Check this too: Best Solar Deck Lights
The solar fan is housed in a UV-stabilized, color-dyed, rugged ABS plastic shell. The solar panel is made from tempered, enabling it to withstand large hail and resist deterioration over time. The fan's compact housing frame makes it easy to install. It also has an attractive design that will enable it to sync with your roof.
The fan comes with an aluminum, heavy-gauge screen that keeps insects, animals, or birds without impeding airflow. The installation package comes with stainless steel fasteners and galvanized steel brackets for durability and corrosion resistance.
Features
28-Watt solar panel
Aluminum 5-blade fan
ABS plastic shell
Aluminum screen
Stainless steel fasteners
Galvanized steel brackets
Solar Panel material: polycrystalline silicon
DC Variable Voltage Motor
Pros
UV-stabilized
Available in Black or Weathered Wood finish
Weather-resistant
Cons
Emits very little cold air
Check Price
Remington Solar Attic Fan with Thermostat/Humidistat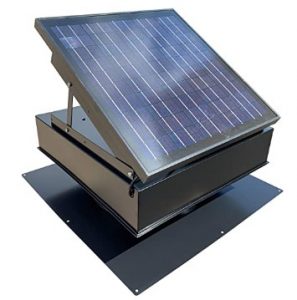 The Remington Solar attic fan comes with a solar panel, a fan with housing, a humidistat/ and thermostat, and mounting screws. It is designed to tp fight mold and moisture while keeping your attic fresh during hot summer months.
The fan has a brushless motor that produces very little noise. It has also been certified as being windstorm and hailstorm proof. The fan comes with a 30-day free trial period and a 15-year warranty.
Features
Brushless motor
30-day risk-free trial
Ventilation area: 2,200 square feet
15-year warranty
Pros
Comes with a humidistat and thermostat
Mounting screws
Texas Windstorm Certified
Cons
Check Price
Are Solar Attic Fans Worth It?
Yes. Attics get hot and humid during the summer months. This can lead to the accumulation of moisture that can lead to the growth of mold and mildew. Additionally, a cooler attic will reduce the strain on the central air conditioning system as it will not counteract the HVAC system's cooling effect.
Check this too: Best Solar Flood Lights
A solar attic fan will also reduce your cooling energy bill. The reduced strain on the HVAC will mean a reduced need for cooling the house. Not to mention the solar-powered attic fan is also energy efficient.
Where Should A Solar Attic Fan Be Installed?
The best place to install your fan is on the side of your roof that has the most direct access to sunlight as this will ensure it absorbs enough sunlight for powering the fan. It should also be on a slanted part as this will prevent water from pooling around the panel and seeping into your roof. Lastly, ensure that the fan is mounted at the section of your roof that gets relatively warm during the summer. You may need to use a thermostat to figure this out.
Conclusion
The best solar attic fan should be compatible with a large variety of roof types. It should also be able to store energy for powering the fan when there is no sunlight. Look for an attic fan that has a thermostat for temperature control as well as a weatherproof solar panel. If in doubt, pick one of the options reviewed above.