Gardening tools have tremendously evolved. Even with the changes, these tools have for a long time given homeowner's value for their money. Secateurs come in different designs, including those designed for small hands.
When purchasing a pruner, it's crucial to consider the usage. If you are looking for those that can prune live stems, you'll want to settle for pruners whose blades slide past each other just like scissors.
Top secateurs for small hands in 2021
Name
Highlights
Bypass/Anvil
Price
Felco 3224432
- Ergonomic handles for comfortable use
- Replaceable parts
- Precise clean cuts for sizable twigs and branches
Bypass

Check Price

Gardena 8790
- Cut up to 20mm
- Non-stick coated blades for easy cleaning
- Comfortable handles with soft components
- Extra narrow head for tight cuts
Bypass

Check Price

Felco 6
- Cut up to 20mm
- Comes with a wire cutter
- Shock absorbing grip for easier cutting
Bypass

Check Price

Okatsune 101
- A genius spring for safer cutting
- Locking mechanism for simple use with soiled hands
- Stays sharp for long
Bypass

Check Price

GRUNTEK Secateurs
- Comfortable well shaped handles
- Sharp edges for precise cuts
- Stop buffers to absorb cutting impact
Bypass

Check Price

Mockins Professional bypass pruners
- cut 1/4 inch twigs
- Good grip handles with no slip
- A position lock for easy storage
Choose between Bypass and Anvil

Check Price
Felco 3224432
The Felco 3224432 is a basic compact level secateurs that are designed from lightweight, high strength composite material. This pruner features compact handles that fit comfortably on smaller hands. The handle also gives more control so you'll get more pressure on every cut, especially when cutting through thick branches.
The good thing about Felco 3224432 secateurs is that you can cut through items that are larger for secateurs. If you have outgrown twigs more than 20mm thicker than this is a perfect tool for you. The center nut on this pruner ensures that you get clean, precise cut without damaging your plant.
With this product, you are guaranteed a lifetime warranty against any defects. All the parts of the secateurs are also replaceable.
Pros
Replaceable parts
Comes in an ergonomic design
Lifetime guarantee against defects
Cons
The Anvil type doesn't suit everyone
Check Price on Amazon
Gardena 8790
Gardena offers a simple and convenient solution to your lawn, soil and watering problems. This quality gardening tool will make it easy to handle all your gardening tasks, so you can relax and enjoy gardening. It also comes with a 12 month part and labor warranty.
This pruner comes with an extra-narrow head and comfortable handles with soft components. It also has two holding positions which make power cutting quick and easy.
The Gardena 8790 features variable size handle opening with individual adjustment of the size of a hand, so they lie ergonomically and comfortably in hand.
Pros
Non-stick coated blades
Comfortable grip
Exceptionally convenient and ergonomic
Cons
Feels uncomfortable on the hand when used for long
Check Price on Amazon
Felco 6 Orcharding and Garden Secateurs
The Felco 5 garden secateurs is designed for medium sized hands and comes with a cutting diameter of 20mm. It is comfortable on hand and can also act as wire cutters.
You will not just love the effectiveness of this tool in cutting twigs and branches, but it also includes a wire cutter. You can conveniently cut the wire with a small diameter without having to destroy the blade.
This pruner is designed for people with small to medium hands and features a non-slip coating and shock absorbers to support your grip.
Pros
Small and lightweight design
Has a wire cutter included
Features thin, Comfortable handles
Cons
The shears aren't well balanced
Check Price on Amazon
Okatsune 101 Small Bypass Secateurs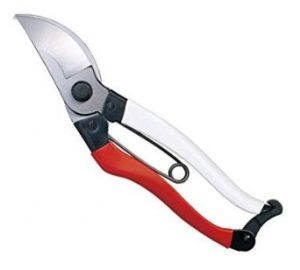 This tool is forged from Japanese steel, which makes them hard and stays sharp for long. It features a lock latch at the bottom of the hand that is simple to use even with wet and dirty hands.
The blade of this pruner is designed from the finest Japanese steel. This means that the blades will remain sharp for long and still consistently give a clean, precise cut in the wood without much effort.
The blade is designed in two alternate angles, so it will easily cut through wood without necessarily damaging the plant. The V-shape spring also ensures that the cutting load is distributed evenly.
Pros
Does not crush or chew
Has a locking mechanism
Angled blade for a smooth cut
Easy to grip pruners
Cons
Features plastic sheaths on the handles
Check Price on Amazon
GRUNTEK Secateurs
This ergonomically designed pruner features 35" angle design with flexible width handles that makes it easier for any gardener to reach branches for easy clean cut. If you are looking to cut growing wood or fresh green stems, then this pruner is great for you.
This secateurs features ergonomic 2-component handles for better handling. The bypass shears are perfect for precision work with the sharp edges best suited for clean and precise cuts. This way, plants are not injured and the cut is clean.
The Gruntek secateurs have absorbing stop buffers for quick and strong cuts. The dynamic construction also creates ideal stability and power transmission. You also get soft-touch handles that lie comfortably in hand. This makes it easier to cut fresh green, growing woods easily.
Pros
An ergonomically shaped inner handle
A switchable opening width of handles for small and big hands
Comfortable handles
Cons
Check Price on Amazon
Mockins Professional Garden Bypass Pruning Shears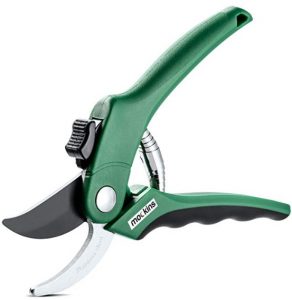 The Mockins Professional Garden Bypass Pruning Shears is an affordable option for all your gardening needs. They are designed to last even with the daily use by gardeners. They feature stainless steel blades and their no-slip, ergonomic design makes cutting easier.
Quality Design
This pruner can conveniently cut through thick ¼ inch twigs without bending or crashing. The position lock is also well designed, keeping the sheers closed and firmly fastened.
Great Grip
The handle offers good grip, so it can hardly slip on your gloves.
Pros
Choose between bypass and anvil model
Limited warranty for complete customer satisfaction
Stainless steel blades for complete customer satisfaction
Cons
Doesn't feature a ratchet tooth mechanism
Check Price on Amazon
What To Consider When Choosing Secateurs
Gardeners need great punning secateurs to make pruning of wood twigs and soft growth a success. For optimal performance, these tools need to have good-quality blades with sharp edges. They should also feel comfortable in your hands and have a catch that works perfectly.
Here are some of the things that you should keep in mind when selecting secateurs.
The Type Of Handles
When selecting the right secateurs for your gardening needs, it's essential to factor in the type of handle. Those with rotating handles put less strain on your wrists and hand. Also, not everyone likes the rotating handles given that some people prefer a more traditional grip style. When selecting pruners its best to settle on those with bright-colored handles as they are easy to spot if they drop on the foliage.
Safety features
The pruners have a safety mechanism that allows it to lock in a closed position. This is not just safe, but it protects the blade when not in use. You need to figure out whether you can easily reach the safety patch. It is irritating to struggle with a pruner that stays in the open and lock position.
Grip and ergonomic design
When searching for a pruner, it's vital to look for those with padding and with shockproof fittings. You also need to consider designs with an adjustable nut, so that you can easily loosen up tight mechanism.