Taking good care of your garden is indeed an important task. For most gardeners, choosing the proper tools is often a challenging process.  Besides that, investing in property management companies often comes at a high cost. For users with arthritis, the pain of hard work associated with most gardening tasks is sometimes unbearable.
While it is still possible to garden despite suffering from such health challenges, it often proves to be painful in the long run. However, equipped with one of the best secateurs for arthritic hands, you can easily improve your gardening productivity levels and experiences.
The best secateurs make it easy to prune your favorite plants to promote growth and more. Besides that, the ideal secateurs also works well to relieve the usual workload you experience when using the conventional garden tools.
Top Secateurs for Arthritic Hands
Name
Type
Highlights
Price
Fiskars PowerGear X Pruner M PX92
Bypass
- Cut through twigs with minimal effort
- Ergonomic handles for natural hand movement

Check Price

Bosch EasyPrune Cordless Secateurs (power assisted pruner)
Bypass
- Integrated 3.6V battery to power an assistive motor
- MicroUSB charger
- Smooth cutting with less effort thanks to three power assist levels

Check Price

Fiskars Large PowerGear Bypass Pruner
Bypass
- Rotating gear mechanism to amplify cutting power
- Unique durable blades
- Easy to maintain PTFE blades

Check Price

Felco Secateurs Model 10 Professional
Bypass
- Specially designed for left handed users
- Easy maintenance
- Stays sharp and easy to use for long

Check Price
Fiskars PowerGear X Pruner M Bypass PX92

Arthritis is no longer a problem when you have the Fiskars PowerGear Pruner for your gardening needs. This unit is a sharp and precise pruner that comes with a unique anti-shock handle. Besides that, the pruner is easy to use thanks to the inclusion of the East cut technology. This pruner also has ergonomic handles that allow for natural hand movement. The lightweight and weather resistant design provides enhanced pruner functionality. Users will appreciate the high-quality workmanship, that provides effortless cutting performance. It will also ensure smooth and clean cutting thanks to the non-stick coating that is placed on the upper blade.
Pros
Sharp and precise prune with anti-shock benefits
Easy to use thanks to easy cut technology
High-quality workmanship including ergonomic handles
Cons
The ergonomic handle is small for some users
Check Price on Amazon
---
Bosch EasyPrune Cordless Secateurs with Integrated 3.6 V Lithium-Ion Battery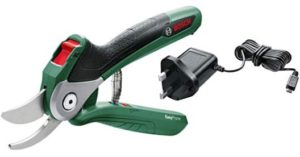 You can easily improve your productivity by using the Bosch Easyprune Cordless Secateurs. These secateurs are unlike most brands that you have come across. For instance, they consist of power-assisted cutting, that can effortlessly cut branches up to 25mm with ease. As one of the Best garden pruners 2021, you can be sure of years of reliable cutting performance. The power assist comes in three levels, which are the high, low and medium levels. Even more, the clean-cut pruning, makes it easy to engage in health pruning by offering a clean cut. The easy charging design is convenient thanks to the included Bosch micro USB charger. Users can even set the power assistance to suit the specific cutting work.
READ ALSO: Top Tools That Make Gardening Easier For People With Arthritis
Pros
Offers power assisted cutting
Unique design promotes healthy plant pruning
Comes with an easy charging USB charger
Cons
The blade is prone to scratching and light damage
Check Price on Amazon
---
Fiskars Large PowerGear Bypass Pruner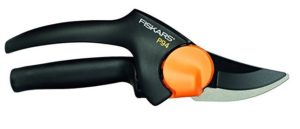 The Fiskars Large PowerGear Bypass pruner is the perfect addition to your home care regimen. It comes with a rotating handle movement, that promotes optimal usage of all fingers. Besides that, the inclusion of the unique gear mechanism offers optimal cutting power for your needs. With the PT FE-coated special upper blade, this pruner is both convenient as it is efficient. Designed to be durable and sharp at the same time, the Fiskars Large PowerGear pruner is ideal for plant care purposes. More so, the upper blade is also coated with non-stick PTFE material for enhanced performance.
Pros
Comes with a unique rotating gear mechanism for optimal cutting power
Features unique blades that are durable and sharp
Has a non-stick PTFE blade for optimal cutting
Cons
The secateurs are heavy for some users
Check Price on Amazon
---
Felco Secateurs Model 10 Professional – Left Handed

Make quick work of any pruning projects by investing In the Felco Secteurs Model 10. It comes with a left-handed forged aluminum alloy rotating handle for optimal performance. Besides that, the manually adjustable center nut provides optimal aligning play between the heat treated steel and blades. Users will appreciate the unique cushion and shock absorber that protects the user's hands. The blades also incorporate a unique wire cutting notch to ensure that you don't damage the edges when working. More so, the Felco Secateurs No.10 has a rotating handle, that reduce the effort required when cutting.
Pros
Made using forged aluminum alloy material
Blades have high-quality steel and cutting edges
Has a central mechanism to make it easy to realign the blades
Cons
The rotating handle requires regular service
Check Price on Amazon
---
How to Take Good Care of Your Secateurs
The first step in taking good care of your garden is to invest in the proper tools. The next step is to be cautious when using the tools to ensure the longevity of your tools. Consider these tops tips for arthritis gardening:
Use proper storage methods- once you are through with using the given tool, ensure that you keep it in a cool, dry place. This is way; it's not exposed to elements such as water or dust. Besides that, most tools often come with storage options such as linens.
Services the tools regularly- you also need to service the moving parts in your tools regularly. This ensures that you reduce any issues such as wear and tear.
Avoid using tools for inconsistent purposes- ensure that you use the tools for the appropriate purposes. For instance, you can use secateurs as a makeshift hammer for your DIY projects.
What to Consider When Choosing Secateurs for Arthritic Hands
Ergonomic features- the ergonomic secateurs should be very comfortable in the user's hands, especially for people who have physical challenges. Ergonomic features might include aspects such as contoured handle designs that conform to your hands.
Auxiliary functions- even more, the ideal secateurs have additional functions that make it simple to cut tough materials. For instance, some high-end secateurs are nowadays available with special motors for convenient functionality.
The brand- similar to purchasing products such as the best smartphones, choosing secateurs from a reliable brand has its inherent benefits. Two of the top brands include Fiskars and Bosch.
Cutting ability- the purpose of a secateurs is to cut. Therefore, evaluate the cutting system aspects such as the material used and sharpness quality of the unit as well.
Bottom Line
Overall, choosing the appropriate gardening tools is an important investment. Taking good care of the garden is not only a fulfilling task, but it also makes your property look good. You no longer have to work through the pain, or struggle with hours of hard work if you have arthritis. A good secateurs will not only make cutting work a breeze, but it also increases your productivity as well. Owning these tools will essentially make the entire gardening process simple.  These tools are designed to demonstrate specific design features to suit the needs of arthritis users.