Keeping your swimming pool safe and clean is essential. Sanitizing it helps kill all pathogens like bacteria and viruses that can cause infections. Always ensure your pool is sparkling clean. But in case the chlorine fails and won't function well, shocking becomes necessary to boost it.
In a normal situation, shocking your pool once a week will keep it looking clean and bright. But some circumstances can force like substantial rainfall, growth of algae, a high number of swimmers, or periods of hot weather that can deplete free chlorine levels, which means you need a new dose shock. Cool weather is the best time to shock your pool because the chlorine can work efficiently without reacting with ultra-violet rays thus clears water faster. This article gives you the five best pool shock you can consider to keep your pool well maintained.
Top 5 Pool Shocks to Try Out This Year
Pool Essentials Shock Treatment 6 Pack
This formula is a fast-dissolving product. It clears cloudy water and removes all contaminants in the pool like seat, urine, oils. You don't require to assemble anything to use the product. It has a manual to follow when applying it to the pool.
        Features
Available chlorine 40%
Active ingredients, Tichloro-S-triazinetrione 43.47%
Other components 56.53%
Net contents weight 5lb
        Pros
Easy to add
Cleans all contaminants
Fast – dissolving formula
           Cons
Doesn't offer protection for long
Check Price on Amazon
hth Pool Shock Super Shock Treatment 6 count 6lbs (52008)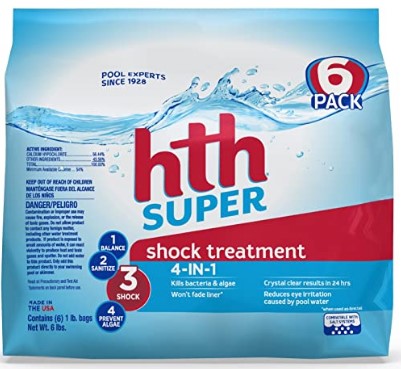 It's a powerful saltwater pool shock that contains 52% chlorine and gives results within 24 hours. The product provides you hassle-free operation. It kills bacteria, algae, and better for all pool surfaces.  It also minimizes chlorine smell, itching in the eyes caused by treated water, and won't discolor the pool liners. It is convenient, easy to use, and won't over stabilize your pool.
Features
Available in 1 lb size
Sold in a six-pack
Chlorine 52%
Active ingredient; calcium hypochlorite 56.44%
Other components 43.56%
Pros
Easy to open the package
Kills bacteria and algae
Has high chlorine
Its acts fast
Cons
Check Price on Amazon
Clorox Pool &Spa Shock Extra Blue 6 Pack (1 lb. Bottles)
The shock contains blue crystals that kill both algae and bacteria. It also improves swimming filters and restores pH levels. The fast-dissolving formula works speedy, so you can treat and swim in 15 minutes. This potent formula eliminates all pathogens without reacting with your pool's lining or altering pH.
Features
Net weight contains 1 lb
Occurs in 6 and 12 pack packaging
Main component: Sodium Dichloro-S-Triazinetrione 63.05%
Other Ingredients: (36.69%).
Pros
Perfect for vinyl liners
No need for premixing
Multi-use; can remove odors and contaminants
Cons
Check Price on Amazon
In the Swim Chlorine Pool Shock – 24 X 1 Pound Bags
This product is a granular pool shock that will rarely disappoint you. It's best and has a powerful oxidizing agent used for a variety of purposes like disinfecting pools, spas. The product contains 38% more potassium monopersulfate than most shocks. One pound can sanitize 12,000 gallons pool. It works well for regular maintenance as it's not a super shock. Using pool shock as a weekly maintenance shock, you will use 1 Lb per 10,000 gallons. If you need this product to kill algae, use around 2 Lbs per 10,000 gallons until they die and vacuum them out of the pool.
To use the Swim in concrete pools, pour along the edge of the bath. In other types of pools like vinyl, painted or fiberglass, dissolve the chemical in a clean 5-gallon bucket filled with water, stir until it forms a uniform mixture. For higher potency, lower the pool pH to 7.2 before adding pool shock.
Features
Active ingredient; calcium hypochlorite
Chlorine 65%
Active ingredient; calcium hypochlorite 68%
Other parts 32%
packaged in 1-pound bags
Pros
Give quick results
Kills bacteria, algae, and contaminants
Can swim immediately
Cons
Not productive in green water
Can take more time to dissolve
Check Price on Amazon
Clorox Pool & Spa Shock Plus 6 Pack (1 lb Bags)
The product saves money and does excellent work as pool shock. It doesn't affect pH and can swim after 15 minutes of its application. The shock comes in an easy bottle that you can pour directly into any pool. For best results, repeat application after heavy rain or high heat.
Features
Available chlorine 37%
Active ingredient; sodium dichloro-s-triazinetrione 58.2%
Other ingredients 41.8%
Net contents 6lb
Pros
Kills harmful bacteria
Clears cloudy water
Won't impact pH
Swim 15 minutes after treatment
Cons
Check Price on Amazon
Are Chlorine and Shock the Same Thing?
Chlorine and shock are not the same things. Shock product has more intense chemical strength than the traditional chlorine sanitizers. Also, the two differ in how you apply them to your pool. Chlorine mostly maintains a clear, healthy pool, while shock has a high chlorine dose. Shock, therefore, raises the level of chlorine quickly in the pool.
The two can treat the water together. It will help if you place chlorine tabs in a floater, skimmer to maintain a chlorine residual in the water. The tabs help the shock not dissipate quickly out of the water while keeping the chlorine level high to sanitize the pool fully.
Which is Better, Liquid, or Powder Pool Shock?
The best product to use between the two depends on some factors. For instance, liquid chlorine is easy to use because it requires no premixing and no need to dissolve it. The chlorine also is highly effective and has a high level of PH. But it's costly if using for residential purposes and more in large commercial pools since it's cost-effective.
On the contrary,  powder shock lowers pH to about seven, and therefore you require to balance it. It also dissolves more quickly, more stable thus used as shock treatment. The choice of which one depends on; usage, variances in pH, available chlorine per pound, and equipment required for the treatment.
What is the Difference Between Shock and Super Shock?
The difference between the two is in the concentration of the active ingredient, where super shock has more than shock. For example, in the swim pool shock, it is 68% calcium hypochlorite, while super has 73%. Due to the difference in ingredient concentration, the super shock will require more water volume since it's stronger than shock, which applies in less water.
What is the Difference Between Shock and Sanitizer?
Shock involves using a concentrated formula to increase the available free chlorine when the sanitizer fails to work. Shock formula comes in handy when the sanitizer becomes overwhelmed and gives it a boost. Examples of pool shock include; calcium hypochlorite, oxide, and more.
Sanitizer works by killing bacteria and inhibit the growth of algae, viruses, and other pathogens. For it to be effective, chlorine should maintain at prescribed levels referred to as free chlorine. This chlorine ensures the pool sanitizes continuously by killing any microorganisms that get into the pool.
The two types of sanitizers include stabilized and unstabilized. You can dispense stabilized sanitizer into the pool using a chlorinated, skimmer, or floating basket while unstabilized, add it directly into the water. Before choosing which one to use sanitizer or shock, consider how dirty your pool can get. But remember regular pool cleaning keeps it at tip-top condition
Conclusion
The best pool shock should meet your pool needs.  It should clean it thoroughly by killing bacteria and other pathogens. Additionally, it should not interfere with the water parameter like change in pH, make swimming impossible, or cause irritation to the eyes. It should also be easy to apply and allow usage of the swimming pool almost immediately. For instance, liquid pool shock mixes quickly with water and operates efficiently.