Disclaimer: While the right mask, especially the N95 can protect you from the Corona Virus (COVID19), it is in no way a replacement to the directives from the government and your ministry of health. Please observe social distancing (stay at home), Use soap to wash your hands frequently, avoid touching your face and follow other directives from the CDC to say safe.
The lawn is an essential aspect of the modern day home or property. It's where the kids get to play, where you can spend an afternoon or just a good way to improve the value of your property. However, the grass and other plants on the lawn often grow at a face rate. At such point, investing in a lawn mowing company often seems to be an unwanted cost.
More so, the headaches associated with allergic reactions to freshly cut grass and the debris flying at your face or your nose is often a health threat, if not a direct danger to your life. However, equipped with the appropriate best mask for mowing, you can easily eliminate such a complication.
Top Gardening Masks for Mowing Grass at a Glance
Name
Features
Price
Breathe Healthy Honeycomb Seasonal Allergy, Pollen, Dust Mask
- Washable and reusable
- Adjustable soft ear loops
- Works for dust, pollen and protection from flu

Check Price

3M Lawn and Garden Respirator
- Custom filter technology for easier breathing
- Adjustable nose clip for better fit
- Great for garden word, pollen, sand, dust

Check Price

Face Masks Activated Carbon Mask N95
- Washable and reusable
- Protect you from dust, pollen, flu and other allergens

Check Price

N95 N99 Dust Respirator Mask
- Ultra soft comfortable material
- Protect from gas, smells, pollen, smoke and flu

Check Price

Fightech Dust Mask
- Efficient six layer filtration
- Adjustable nose clip for better fit
- Universal protection

Check Price

N99 Respirator Dust Mask - Military-Grade
- Washable and reusable
- Military-grade activated carbon filtration system

Check Price
These best masks are designed to incorporate a host of unique design features to keep you protected as you mow your lawn. Best of all, most of these masks have appealing designs, to let you take on your outdoor tasks with both style and functionality. The following are the masks to consider:
Breathe Healthy Honeycomb Seasonal Allergy, Pollen, Dust Mask
Mowing your lawn has never been this easy. The Breathe Healthy Honeycomb Black Mask is the perfect addition to your outdoor care regimen. The mask has a solid color, and it is also very comfortable to wear as well. Besides that, the washable and reusable mask offers protection from various issues including allergy, pollen, dust and more.
The mask is also treated with hospital safe and non-leaching antimicrobial that does well to kill germs. Furthermore, the mask can also filter down to 1.0 micron, thereby doing well to protect users against various forms of dust, mold spores, weed killers and pollen.
The unique structure of the mask does well to adapt to changing weather patterns, such as offering insulation when it's hot outside. The unique filtration capabilities of these masks make it perfect for travel, carpooling, woodworking and more.
Check Price on Amazon
---
3M Lawn and Garden Respirator
You can easily increase the value of your lawn by doing a spending job. The 3M Lawn and Garden Respirator is the first best step towards doing a spending job on your lawn. In particular, the mask is ideal for security and safety; it offers optimal personal protective benefits. Besides that, the unique design of the mask is ideal for non-harmful dust such as grinding, sawing, and sanding. The unique proprietary filter technology does well to improve the user's breathing capabilities. Equipped with an adjustable nose clip, that mask is perfect for controlling the effects of fogging. Even more, the unique mask structure offers an exceptional seal and a snug fit.
Check Price on Amazon
---
Face Masks Activated Carbon Mask N95
Facemasks are an essential item to own in any well-equipped toolbox. We highly recommend the Mask N95 Dust Mask with Valve. It comes with a unique four-layer filter insert that is equipped with activated carbon material for enhanced performance. More so, the inner activated carbon filter layer also promotes enhanced filtration efficiency.
As such, users are safe from issues such as gases, pollen, odors, and it can effectively separate even the finest of particles, bacteria, and even viruses when used properly. The inclusion of a mouth mask and the comfortable material will not rub on your face. The mask is easy to attach to both sides of the nose bridge, and it's also effectively insulated from air pollution.
More so, the unique design allows promotes breathing while engaging in various activities such as grooming, gardening and mowing.
Check Price on Amazon
---
N95 N99 Dust Respirator Mask for Anti Allergies (Washable)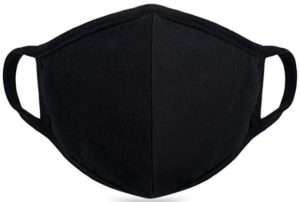 With the N95 N99 Dust Respirator Mask, your productivity level increases almost instantly. The mask has a high-quality structure that does well to protect users from gases, smells, pathogens and more. More so, each face mask respirator features five layers of support that also contain activated carbon.
Check this too: Best Weed Barrier
The unique carbon material is both durable and provides optimal user functionality. The anti-dust mask is washable, and the filter is also simple to replace. Equipped with an advanced and reusable cotton mouth filter, this mask does well to keep your skin fresh. The manufacturers of the mask have also done well to ensure that it has a durable and sturdy design structure. This way, the mask offers years in reliable longevity benefits.
Check Price on Amazon
---
Fightech Dust Mask
Make a good impression with the unique way in which you handle your lawn mowing tasks. The high-tech dust mask is the first best place to take your mowing prowess to the next level. In particular, the mask does well to promote healthy breathing, and it offers protection from various issues.
Some of these issues include mold, fumes, dust, common irritants and more. Furthermore, the enhanced design of the mask features a unique ear loop structure that reduces the likelihood of slippages. The mask also features a unique valve structure that does well to provide ventilation with the mask.
Made using elastic material, the Fightech Dust Mask air pollution mask is simple to adjust to suit various types of heads. It also has unique filters and valves that are interchangeable, to make the mask simple to customize for your needs regardless of whether you are allergic to freshly cut grass or you want extra protection because you are pregnant.
Check Price on Amazon
---
N99 Respirator Dust Mask – Military-Grade Activated Carbon Filtration Allergy Washable PM2.5 Half Face Mask
Owning a good mask for your mowing projects is an essential necessity. This is why the N99 Respirator dust mask is also an excellent suggestion. Each mask respirator features complete 5pcs, with unique carbon replacement filters for long-lasting performance. Even more, the multi-layer protection is developed using as many as five layers of support that contains activated carbon, non-woven fabric and melt blow cotton. The reusable respirator masks are also simple to wash by hand, and you can wear them even when sick. Offering the one size fits most design with the customizable face straps, the vapor respirator mask is ideal for protecting men, women, and children of all ages. The respirator also works well to block issues such as pollen, dust, and bacteria.
Check Price on Amazon
---
Should You Wear a Mask When Mowing?
While many people who mow their lawns don't necessarily use any form of protective gear, such a process requires optimal caution. Using the mask is essential because it does a spending job of protecting you from exposure to debris, dust, sand, and various other items that can compromise your breathing system. Besides that, the mask also does well to sub-communicate your value for the mowing process. Using the mask lets you protect your breathing system through a host of unique design features. Usually, people mow lawns without protective masks, and the long-term effects of such a vice can be serious.
Pro Tip: Always use a well-sharpened lawnmower blade to reduce the chances of grass tearing as this directly affects how many allergens get to the air.
Furthermore, using DIY masks such as improvised clothing and more is not often as effective as using a mask. In particular, a good mask comes with a several design features that make it perfect for protecting your health against exposure to germs and debris. Mowing your lawn is a reasonable idea, especially during your leisure time. However, you need to be equipped with the appropriate work resources to ensure the best results.
How To Treat Grass Allergy
Are you suffering from a grass allergy? Well, there are various legitimate ways through which you can be able to control the health complication:
Prescription medication- for those with severe allergies, your condition might require the use of prescription medication. You may also opt for immunotherapy, which involves introducing small amounts of allergens into your system.
Immunotherapy- the immunotherapy can be administered through the use of special allergy shots, or through sublingual techniques. The sublingual approach involves the use of a tablet that contains grass pollen that is placed under the tongue.
Over the counter solutions- the over counter solutions are remedies that help in easing symptoms associated with your complication. These include the use of sprays, rinses and more
Bottom Line
Overall, you need to make decisions if you want to mow your lawn safely and even to improve your productivity. Among the first steps to achieving this goal is to ensure that you are equipped with the appropriate work regimen. We recommend that you start out with the best mask for mowing for your needs.
Check this too: How To Keep Grass Green In Hot Weather