Bermuda grass is one of the most preferred grasses to grow on loans. They are not only used on residential lawns but in other areas such as parks and golf courses as well. This is because of its important characteristics; Bermuda grass is very tough and resilient.
Even though these are good characteristics for a heavily used lawn, effective lawn care can prove to be a challenge. You need to have a good lawn mower, with the right features and capabilities, to effectively do the job. Here is a list of the top 5 lawn mowers for Bermuda grass.
Top 5 Best Lawn Mowers for Bermuda Grass
Name
Power
Type
Highlights
Price
Fiskars 362050-1001
Manual pushing
Reel Mower
- 1 to 4 inches cutting height
- 18 inch cutting reel
- Long lasting sharp blades

Check Price

Great States 815-18
Manual pushing
Reel Mower
- 5 18 inch blades
- Light weight and easy to push
- Clean precise cuts with no effort

Check Price

Gardena 4025-U
25 Volt Lithium Ion rechargeable battery
Reel Mower
- Silent electric motor makes it less tiring to push
- Precise clean cut with no emissions

Check Price

Earthwise 1715-16EW
Manual Pushing
Reel Mower
- Light weight and easy to push
- Low maintenance

Check Price

Scotts Outdoor Power Tools 2000-20
Manual Pushing
Reel Mower
- Quick snap adjusters for fast blade control
- Dual wheel tracking for more maneuverability

Check Price
Fiskars 362050-1001 StaySharp Max Reel Mower, 18 Inch, Black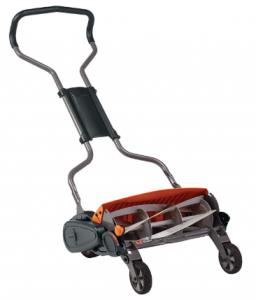 This mower from Fiskars packs both superior mowing height and cutting width capability. It is designed for improved inertia and less friction, making it easier to push as compared to other reel lawn mowers. It has lower operational costs as it doesn't need electricity or gas to move and mow.
Pros
StaySharp cutting system design ensures long-lasting sharpness.
Easily adjustable cut height of 1-4 inches.
Enhanced cutting power (2X) makes this mower effective on tough grass.
Cons
May not be as effective for cutting twigs
Check Price on Amazon
Great States 815-18 18-Inch 5-Blade Push Reel Lawn Mower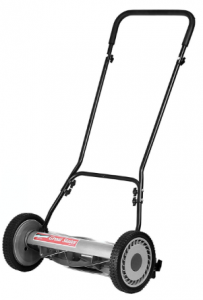 The Great States 815 is another reliable mower from the Great States, with an improved cutting width of 18 inches. For simplicity and functionality, this is the lawn mower to get. It is lightweight for easy pushing and maneuvering, yet effective at the same time. The blades spin smoothly, delivering a smooth and precise cut. This gives you lawn that healthy and attractive look.
Pros
Easy to store
Has low cost of maintenance
No noise
Cons
Not suitable for cutting taller grass
Check Price on Amazon
Gardena 4025-U 15-Inch 25-Volt 3.2 amp Lithium-Ion Cordless Push Reel Lawn Mower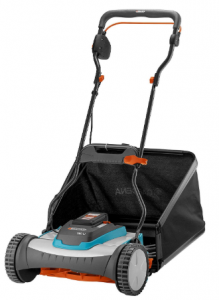 This battery powered mower from Gardena comes with a rechargeable 25 V lithium-ion battery. You have the option of using it as conventional reel lawn mower. It has a LED display showing the battery charge. Its ergonomic shape ensures efficiency and comfort when cutting grass on your lawn.
Pros
Doesn't make noise
Rechargeable battery offers an alternative source of power to operate the mower
12-month parts and labor Gardena warranty
Cons
Check Price on Amazon
Earthwise 1715-16EW 16-Inch 7-Blade Push Reel Lawn Mower, Gray/Silver/Green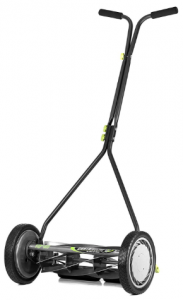 The 1715-16EW from Earthwise was designed for those looking simplicity and effectiveness at an affordable cost. It has no engine, meaning no harmful emissions to the environment. Its 16-inch cutting width and 7-blade ball bearing reel ensure a smoother and cleaner cut.
Pros
Lightweight for easy maneuvering
Low maintenance
Easy to use and store
Cons
It may prove challenging when using an expansive lawns
Check Price on Amazon
Scotts Outdoor Power Tools 2000-20 Classic Push Reel Lawn Mower, 20-Inch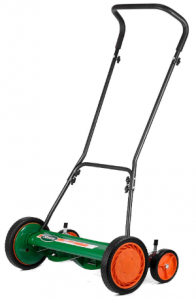 Yet another affordable and effective mower from Scotts. It is specifically designed to reduce the time and effort one spends when mowing the grass on their lawn. It offers a 20" cutting width, effectively reducing the number of passes needed to cut your lawn. This translates to lesser time and effort.  Also, the featured heat-treated alloy steel blades are of high quality and retain their sharpness for longer especially if you pick landscaping pebbles from the lawn before mowing.
Pros
Wide cutting width
Quick-snap adjusters for total control over blade height
Dual wheel tracking technology offers improved maneuverability
Comes with a 2-year warranty
Cons
May not be as effective on taller grass
Check Price on Amazon
Should Bermuda Grass Be Cut Short?
Usually, it is recommended to do some grass mowing when you need to cut a third of the grass height. The recommended mowing height for common Bermuda grass is between 1-2 inches as the stem is approximately 1-inch long.
Lawn scalping for Bermuda can easily result in the grass having an unappealing brown color. Cutting common Bermuda shorter than 1-2 inches can result in the lawn not having that green.
However, Bermuda grass can be bred to have a shorter stem and a low crown. In such a case the mowing height is lowered.
With the hybrid Bermuda grass, the mowing height can be as low as ½-inch and would still have that thick green foliage. Thus, with hybrid Bermuda, you should mow when they are 2-inches high.
To prevent your lawn from becoming scalped you will need to use a reel mower for Bermuda grass. This is because the grass grows low to the ground.
Besides mowing, there are other necessary factors for effective Bermuda grass lawn care. These are:
To keep your lawn green and healthy, watering it is necessary. There are often two sources of water; rainwater and irrigation water.
The former is not always reliable due to the unpredictability of nature. Because of the resilience nature of Bermuda grass, watering it one to two times per week should be sufficient. Also, this 1-2 times weekly cycle comes with another advantage.
It forces the Bermuda grass roots to dig deep into the ground in search of water, once its own supply is depleted at the end of the week.
The recommended watering depth is 6-inches. It is the sufficient depth to foster deep root growth to safeguard your lawn from future harsh climates such as cold and drought.
To know if you have watered to this depth, try to pierce a screw into the soil you watered and see if it can sinks to 6 inches smoothly.
On the other hand, aeration is just as important when growing Bermuda grass on your lawn. The lawn aeration is done by poking numerous holes into the soil. Do this at least once a year.
By doing so, you will be making it easier for the nutrients, oxygen, and water to percolate to the roots. These are very essential elements for the growth of grass but will often lack when they can get deep into the soil to be absorbed by the plant.
READ ALSO: When To Power Rake Your Lawn
The best time to aerate your Bermuda lawn is at the onset of summer. This is the time the lawn grows very fast.
Common aerators come in the form of spikes or plugs. The core aerator is, however, the best; it has hollow tines that pull soil plugs from a loan.
This helps reduce the soil compaction, thus creating channels for the nutrients to get into the soil.
Once through with the aeration process, apply some fertilizer and water the lawn.
Things to Consider When Choosing a Lawn Mower for Bermuda Grass
There are several options to choose from when it comes to picking the right mower for your Bermuda grass lawn. Knowing what important factors to consider when doing so would help you narrow down your options to something that meets your needs and requirements. Below are some of the considerations to make:
The mowing height- When dealing with Bermuda grass, the mowing height is very important. While the required mowing height of common Bermuda grass is 1-2 inches, the hybrid type mowing height is lower. Consider a lawnmower with an adjustable cut height capability that falls within the mowing height requirement for Bermuda grass.
The size of your lawn- How big or small your lawn is should be taken into consideration when buying a mower. While reel mowers which require human effort to push are effective on smaller Bermuda grass lawns, they are not recommended for lawns larger than 8000-square feet.
The cost- The cost implication of the mower is also another factor to consider. This applies on not only the initial purchase price but also the cost of maintaining and operating the mower.
Safety of the mower- How safe is the mower? Safety is paramount when doing some lawn care and you ought to think about the safety features in place for the lawn mower you are considering to purchase. Does it have a safety shield to protect from objects thrown around?
Whether it is a push or electric reel mower or a rotary mower, different types of mowers have their own advantages and disadvantages. Each manufacturer has mower models that are effective for a Bermuda grass lawn.
While the above considerations are important to guide you in making a decision, personal preference should ultimately prevail.
There is no doubt as to the suitability of Bermuda grass for lawns. Known for its resilience and tolerance to different climatic conditions, this grass found its way from Africa to the US back in 18th century. How well you take care of your lawn will determine how good it looks.
For the best lawn mowing for Bermuda grass, you will need to invest in a proper mower. Depending on the size of the lawn, your individual budget and the other factors mentioned earlier you need to get yourself the right mower.
Each of the mowers mentioned above can be a good pick if you want your lawn to look as if it will be the next venue for the US Open.