Sprinklers are a great way to keep the lawn hydrated through dry seasons. While irrigating your lawn should be as simple as hooking up your new sprinkler to the garden outlet, some homeowners have to deal with low water pressure on their taps.
If this is you, chances are you've already explored different ways to improve water pressure in your home. This is the ideal permanent solution. The only problem is it might involve spending more money than you want to.
The easier alternative is to buy sprinklers designed to work on low water pressure outlets. Very few of these are impact sprinklers. If you are keen on this type, here are some of the best impact sprinklers for low water pressure.
Top Impact Sprinklers for Low Water Pressure in 2021
| Name | Material | Watering Radius | Price |
| --- | --- | --- | --- |
| Melnor Impact Lawn Sprinkler | Metal | Up to 85 feet | Check Price |
| Orbit 56667N Zinc Impact Sprinkler | Metal | Up to 85 feet | Check Price |
| Rain Bird P5R Impact Sprinkler | Plastic | Up to 40 feet | Check Price |
| Rain Bird 25PJDAC Brass Impact Sprinkler | Metal | Up to 40 feet | Check Price |
Melnor Impact Lawn Sprinkler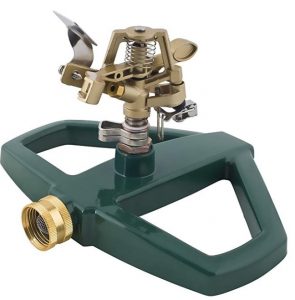 This impact sprinkler is highly durable and reliable thanks to the solid metallic build. You can adjust the spray angle and distance on demand letting you cover a wide range of lawn sizes and shapes with ease. You will get a 7-year warranty with your purchase which again is a testament to this sprinklers reliability.
Pros
A large watering radius
Adjustable coverage angle and spray distance for better irrigation control
Excellent value for your money
Spray radius: Up to 85 feet
Cons
The rotator sometimes gets stuck at different angles
Check Price on Amazon
Orbit 56667N Zinc Impact Sprinkler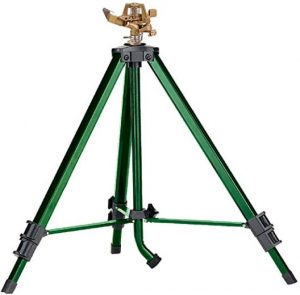 The Orbit 56667N sits on an adjustable tripod that gives a clearance of up to 37.5 inches on demand. This clearance is great when you are irrigating a lawn or garden that has herbs or bushes that sit a couple of inches above the ground.
This elevation also increases its irrigating radius without necessarily forcing you to get more pressure to your water supply.
Pros
The adjustable tripod is quite stable and creates room for different use cases
Can cover up to 85-inch radii
Lightweight and very easy to move around
Cons
No warranty on the purchase
Sticks out like a sore thumb
Check Price on Amazon
Rain Bird P5R Impact Sprinkler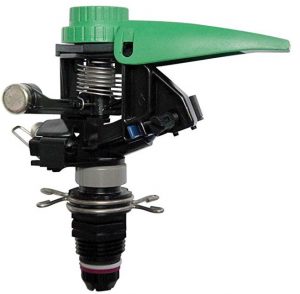 Rain Bird has a reputation for making very reliable sprinklers. They didn't go wrong with this P5R impact sprinkler. Even though it is made of plastic, it is resilient and reliable enough to keep serving your garden for years to come.
The sprinkler head will spin as fast as the water pressure allows it while a proprietary integrated diffuser splits up the water into finer droplets that spread over your lawn better. This in itself is enough to boost coverage even under low water pressure.
Pros
Additional water diffuser increases range even for very low water pressure feeds
Positive customer reviews on its ability to work under low water pressure
Up to 40 feet coverage
Cons
Made of plastic and might not be as resilient as all-metal sprinklers
Check Price on Amazon
Rain Bird 25PJDAC Brass Impact Sprinkler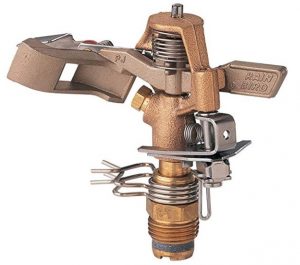 This robust Rain Bird sprinkler is the classical impact sprinkler that even has that impact sound we are all used to. Made of bronze, brass and stainless steel, you can be sure that it will keep working for years to come.
The highly modifiable sprinkler can spray a part circle between 20 and 340 degrees or do a complete spray radius while a deflector flap adjusts coverage from between 20 feet and 40 feet.
Pros
Made of metal and is highly durable
Easy to install and adjust
Works very similar to traditional impact sprinklers
Cons
Metal parts are a bit heavy and might lag when connected to very low water supply nodes
Check Price on Amazon
Sometimes, a low-pressure sprinkler might be enough to salvage the low water pressure problem in your lawn. However, if the impact sprinklers don't work well, you can try a fixed spray or other model sprinklers. They generally need less water pressure to work.
If all fails, you will have no option but to find passive or active ways to raise your water pressure. We featured an article on how to do this.