Spraying your plants, grass, or flowers can be a messy affair – especially if you have to do it manually. You have to keep refilling the carry on sprayer, which is also cumbersome to boot. This can cause you to keep procrastinating this task if you do not wish to be heavy laden with the carry-on plant sprayer or having to use a watering can, which can make you weary after several refilling trips.
Fortunately, there is a more comfortable and convenient way to water and fertilize or distribute the weed killer without the hustle. All you need is a hose-end sprayer, and you are good to go. This innovative gadget is similar to a spray paint gun but for dispensing chemicals onto your grass, crops, and or flowers. Here are the best hose end sprayers in the market currently.
Top 5 Hose End Sprayers Of 2021
Ortho Dial N Spray Multi-Use Hose-End Sprayer

This high-pressure hose-end sprayer can be used to spray weed killers, insect killers, fungicides, and fertilizers. The sprayer has an extended-grip design that is easy on the hands and keeps them dry during application. The sprayer's direct-connect design makes attaching to concentrate bottles fast and easy. It features three adjustable spray patterns; shower, fan, and jet.
It also features 14 dial controlled concentrate dilution rate settings. This helps to apply the exact amount of product-every time automatically. It can be used in two different ways. You can either connect to concentrate bottles or spray liquid concentrates without mixing or measuring.
Features
Direct-connect design
14 dial controlled dilution settings
The rotating sprayer nozzle tip
Pros
Extended-grip design
Two connection options
Three adjustable spray patterns
Cons
Leaks where the sprayer connects to the bottle
Check Price on Amazon
HD Hudson 60000GT Green Thumb Insecticide and Fertilizer Hose End Sprayer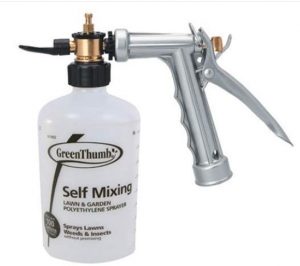 The Hudson 60000GT hose-end sprayer can spray up to 100-gallons of product. There is no pre-mixing required as you simply dial and spray. You also have 16 preset dilution rates to choose from, making it ideal for spraying weed killers, fertilizers, fungicides, and nutrients.
It also comes with a durable polymer bottle. And it can spray a stable stream up to 30′ away. Additionally, it has a built-in anti-siphon valve and an insulated grip.
Features
16 mixing ratios
Durable polymer bottle
Built-in anti-siphon valve
Insulated grip
Pros
Stable stream up to 30 feet
Sprays up to 100-gallons
No pre-mixing required
Cons
The spray stream drips instead of jetting and spraying the plants
Chapin International G362 All-Purpose Hose-End Sprayer

Chapin hose-end sprayer nozzle is made from a poly material that is durable and clogging resistant. The sprayer can fit onto any hose end, and it comes with an adjustable-rate precision dial that offers 16 mixing ratios. The sprayer can spray up to 100 gallons of product. And it features a built-in anti-siphon feature that prevents backflow.
The sprayer also automatically mixes liquid concentrate with water for smooth product application. It also has multiple spray patterns that can be accessed via a twistable deflector. The pressure range is between 0.4 to 0.5 gallons per minute.
Features
16 mixing ratios
Sprays up to 100 gallons
Built-in Anti-Siphon feature
Adjustable Spray Pattern
4 – 0.5 GPM PSI
75-Inch-wide mouth opening
Poly fan nozzle
Pros
Fits onto any hose end
Adjustable-rate precision dial
No concentrate backflow
Automatically mixes liquid concentrate with water
Cons
The handle leaks incessantly
Check Price on Amazon
Hudson 2100 Hose End 26 oz Sprayer

This economical hose-end sprayer features three settings; off, on, or water only. It sprays 1 to 20 gallons of product. It is valve controlled, and it required product measuring. It has a 1-year warranty, and it can connect to most hoses without leaking. It can also spray up to 10 feet away.
Features
Three settings
Sprays 1 to 20 gallons
Valve controlled
Pros
1-year warranty
Easy to use
Sprays about 10 feet
Cons
The fertilizer or weed killer suction is pretty weak
Check Price on Amazon
Gilmour 362 Professional No Pre-Mix Sprayer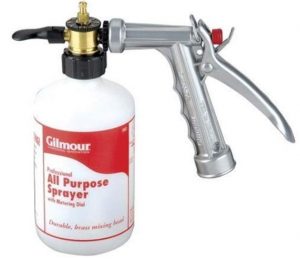 The Gilmour hose-end sprayer bottle features an instant on/off the handle for easy usage. Unlike pre-mix sprayers, you simply pour the concentrate directly into the sprayer and set the dial to dilution rate and spray. Once you are finished, you then pour the unused portion back into the original container. This sprayer does not require any measuring or pre-mixing. This minimizes concentrate wastage.
The hose-end sprayer dilutes as it sprays, and the metering dial lets you choose one of the 16 dilution rates as per the concentrate dilution instructions. The sprayer features a finger-molded nozzle for comfortable gripping, an unbreakable bottle, a removable
Features
Instant-on/off handle
Adjustable dilution dial
16 dilution rates
Pros
Easy to use
No measuring
No pre-mixing
Reduced wastage
Cons
The metal handle is too heavy and keeps tipping over and pouring your liquid fertilizer
Conclusion
The best hose-end sprayer should be able to mix the solution at hand with water effectively and dispense it onto your plants with no wastage. The task should also be hassle-free. As there is no point in investing in a sprayer if you are still as worn out as you would be if you were spraying your crops manually. Make sure that the sprayer you get can be used on multiple dilution rates as you will need to use different concentrates at different dilution rates.