Trimming your lawn is inevitable. It's one of the major pillars of maintaining a well-groomed turf. However, it isn't as safe as it seems hence the need for full protective gear. Many people are familiar with eye protection and dust masks but the majority skips out earmuffs.
Hearing is one of our primary sensory inputs and we should do all we can to protect it. Prolonged exposure to loud noises from weed whackers, hedge trimmers, leaf blowers, and lawnmowers isn't good for your ears.
Wearing the best hearing protection for lawn mowing is mandatory unless you are using a whisper-silent manual push reel mower.
Top Hearing Protection for Lawn Mowing in 2021
Name
Noise Reduction Rating (NRR in dB)
Perk
Price
Decibel Defense Ear Muffs (Highest Overall NRR Rating)
37
-

Check Price

3M Worktunes Wireless Ear Muffs
24
Bluetooth music and FM radio

Check Price

Husqvarna 531300089 Professional Headband Hearing Protectors
26
-

Check Price

Howard Leight by Honeywell Impact Sport Sound Amplification Electronic Earmuff
22
- Selective noise reduction with microphones that let dialogue through
- Aux port for music

Check Price

Mpow 035 Noise Reduction Safety Ear Muff with Ear Plugs
28
-

Check Price
Decibel Defense Ear Muffs (Highest Overall NRR Rating)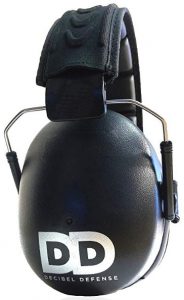 The Decibel Defense ear muffs are one of the quietest and most comfortable in the market. With a Noise Reduction Rating of 37dB, they will give you proper protection from even the loudest lawnmower.
They are built to last too. The padded cell headband has a comfortable fabric stitching while the comfortable breathable ear padding will keep your ears comfortable for up to hours meaning you can keep mowing without having to wipe down your ears.
Pros
An impressive NRR
Sturdy build that will last for long
Comfortable to wear
Cons
They're huge
You will have to move them to talk to people
Check Price on Amazon
3M Worktunes Wireless Ear Muffs (Best Bluetooth Hearing Protection)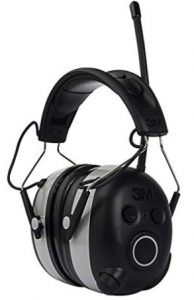 The 3M Worktunes wireless earmuffs connect to your phone via Bluetooth letting you jam to your favorite tunes as you mow the lawn. They are a great purchase if you work on a big lawn or spend many hours on a riding lawnmower. If you don't want to carry your phone, you can still tune in to an FM station and listen to a show as you mow. It has an NRR of 24dB
Pros
Bluetooth music to keep you company when working for long
Lets you take or make calls from your phone over Bluetooth
A comfortable fit and sturdy design
Cons
The extra electronics means they are not as sturdy and waterproof as other models
Check Price on Amazon
Husqvarna 531300089 Professional Headband Hearing Protectors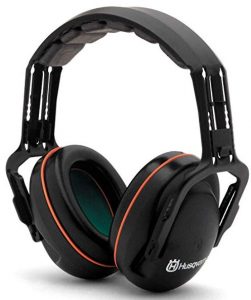 The Husqvarna 531300089 is a very comfortable pair of hearing protection built with professionals in mind. They are large enough to accommodate any ear size while the padding is comfortable enough for most people. However, people with large heads will find these tight even with the flexible padded headband and pressure adjustment.
Pros
Very durable and well built
Lightweight and comfortable when used for long times
One size fits most people
Cons
Cannot be used with protective gear like helmets
Check Price on Amazon
Howard Leight by Honeywell Impact Sport Sound Amplification Electronic Earmuff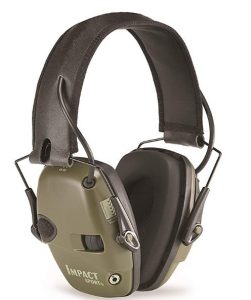 The main problem with traditional earmuffs is they shut off all sounds. You cannot talk to people without taking them off. The high-tech Howard Leight from Honeywell Impact Sport is a nice alternative. It needs two AAA batteries to power its intelligent sound filtering system.
Check this too: Best radio headphones for lawn mowing
Its goal is to filter down the noise to below the 80dB mark without draining everything out. The earmuffs have microphones that 'listen' to surrounding noise and filters out conversations so that they go in loud and clear whilst applying a 22dB NRR factor to the rest of the noise.
Pros
An adjustable headband for a more comfortable fit
Aux input to connect MP3
The selective noise reduction to let through conversations comes in quite handy
Cons
Won't fit well over helmets or if you have a lot of hair
Check Price on Amazon
Mpow 035 Noise Reduction Safety Ear Muff with Ear Plugs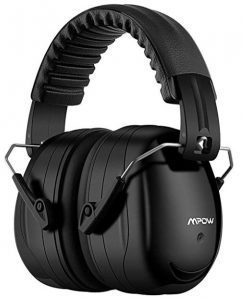 The Mpow 035 noise reduction ear muffs are compact and highly foldable pieces that have a decent 28dB NRR rating. The cups are collapsible into the headband for easy storage and you will find the padding or the earpieces and headband quite comfortable.
The adjustable band makes them a perfect fit for a wide range of head sizes.
Pros
Simple foolproof design that will last for long
Adjustable headband makes it easy to get your perfect size
Comfortable and light despite the chunky look
Cons
The NRR isn't that great bearing in mind their chunky look
Check Price on Amazon
Check this out for more gardening protective gear you should buy: Must-Have Protective Clothing For Lawn Care
Do I Need Hearing Protection When Using an Electric Mower?
Even though electric mowers are pretty quiet compared to their gasoline counterparts, their blades still spin fast enough to make sufficient noise. A typical electric mower can easily hit 75 decibels. Even though the Occupational Safety and Health Administration put the acceptable minimum for hearing protection at 85 decibels, 75 is still loud enough to put you at risk.
What Should I Use? Earmuffs or Earplugs?
The main difference between muffs and plugs is how you wear them. Earmuffs go over the ear while plugs go into the ear canal. They both cut down noise by up to 32 dB.
Earmuffs are comfortable and easy to wear as long as you get the perfect fit. A good fitting pair should cover your ears completely and rest on the head around the ear. Ill-fitting muffs are uncomfortable and won't offer as much protection.
Earplugs fit snugly into your ear canal. They are less bulky and you can move about better with them on. However, you should steer clear if you find in-ear earphones to claustrophobic. You won't like the feeling.
What Will Happen if I Don't Use Hearing Protection?
Exposing yourself to loud noise frequently can damage your hearing. While it might take months or years to notice the changes, your hearing will gradually deteriorate leaving you partially or permanently deaf.
Some of the signs that your loud mowing is affecting you include:
Having to turn the radio or TV louder to hear
Inability to hear higher-pitched sounds that you could hear before
Complaining about everyone talking in low tons
Don't wait until you see these signs before purchasing hearing protection. Start protecting yourself when mowing and ensure that you buy the best mower with advanced noise reduction tech. You should also service it occasionally to keep its noise levels within the design specs.