In most cases, landscaping can cost you an arm and a leg. But if you do most of the landscaping upgrades yourself, you can reduce the cost significantly. It is possible to improve your homes curb appeal at a fraction of the cost by making small changes such as planting a variety of ornamental grasses mixed with a variety of colorful flowers.
Another way to jazz up your garden is by using decorative lights. Not only does it look fancy, but it serves a purpose. And to take a step further, you can use solar-powered decorative lights as they are more cost-effective. Here are the best decorative solar lights.
Top 5 Decorative Solar Lights
| Name | Type | Price |
| --- | --- | --- |
| Brightech Ambience Pro | 27 Ft Vintage Edison Bulbs | Check Price |
| 2 Pack Globe Solar String Lights | 20ft 30 LED Outdoor Bulb String Lights | Check Price |
| TomCare STL01 2nd Version Flickering Flame Torches | Flickering Flame Torch Stakes | Check Price |
| URPOWER Outdoor Solar Lights | Decorative Lampshade Stake Lights | Check Price |
| Outdoor Solar Lights, KOOPER 4 Pack | Lights with 16 Bigger Lily Flowers | Check Price |
Brightech Ambience Pro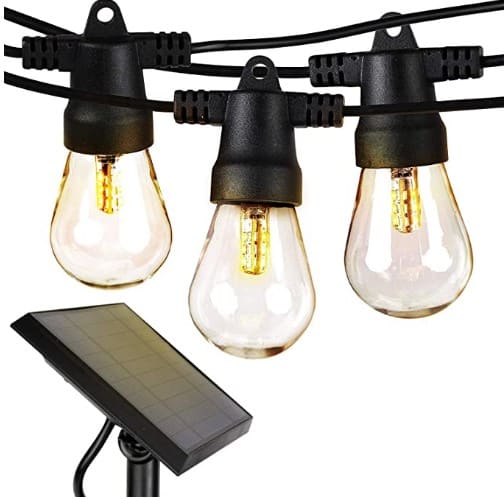 The Brightech decorative solar lights are perfect for use as a canopy over your porch or gazebo to create the perfect ambiance. They can last 5-6 hours on a full charge after 6 hours of charging under direct sunlight. They are made from commercial-grade weatherproof material and are fitted with shatterproof s14 bulbs.
They are made using Weathertite technology to withstand winds up to 50mph, rain, and snow. They are also heat resistant up to 122 degrees Fahrenheit.
Features
Commercial grade
Weatherproof
Shatterproof s14 bulbs
Heat resistant up to 122 degrees Fahrenheit
Length: 27 feet
Pros
3-year product warranty
Lasts 5-6 hours on a full charge
Easy to install
Cons
They produce a very dim light
Check Price
2 Pack Globe Solar String Lights
These outdoor solar lights can withstand all kinds of weather, including heavy rain and snow. IP65 Waterproof and are easy to install. They can be installed on a wall, window, door, floor, ceiling, grass, Christmas tree, or building. They add the perfect atmosphere to your home.
They use a light sensor to turn on automatically when it gets dark and turn off at the break of dawn. They have two switches and eight different modes.
Features
IP65 waterproof rating
Memory Function
Number of lights: 30 LED
Solar panel: 2V 100mA
Rechargeable Ni-MH battery: 600mAh
Total length: 20ft
On/Off switch
Mode switch
Light sensor feature
Pros
Easy to install
Wide Application
Eight different light modes
Cons
The solar panel is not water-resistant
Check Price
TomCare STL01 2nd Version Flickering Flame Torches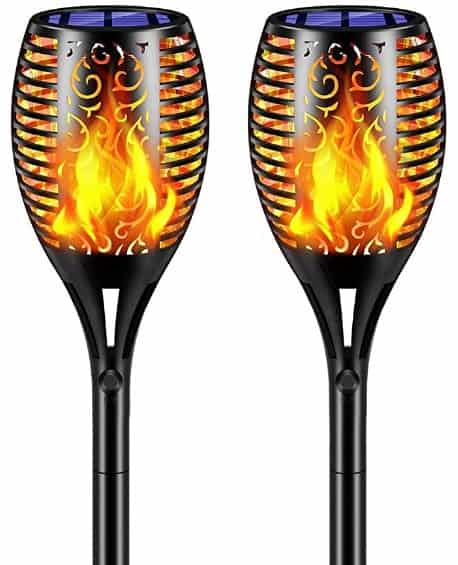 The Tomcare solar lights are touted as being the only solar lights that last all night. They feature a gorgeous dancing flames design. The lights cast a safe, soft, mood-enhancing glow.
They have a long working time powered by a built-in rechargeable battery (2200mah). They can light up for 10 hours in summer and 5 hours in winter when fully charged. Their required charging time is 8 hours. They are weather-resistant and can withstand all kinds of weather all year round.
Features
Dancing flames design
Built-in rechargeable battery
Light up 10 hours in summer
5 hours in winter
Charging time: 8 hours.
Waterproof
Weight: 230g
LED: 96pcs
Solar panel: 0. 88w
Pros
Weather-resistant
Durable
Easy installation
Cons
The daylight sensor does not work properly
Check Price
URPOWER Outdoor Solar Lights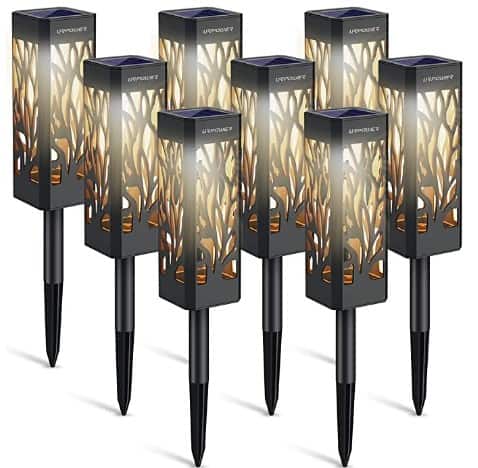 The URPower solar lights come with a bigger solar panel and longer working time. These lights are equipped with a polycrystalline solar panel and a rechargeable Ni-MH AA battery (600mah).
Check this too: Best Batteries for Solar Lights
It provides bright light for up to 8 hours when fully charged—making it more efficient than others. The lights have an IP65 waterproof rating. They are also weather-resistant. They are made of corrosion-resistant ABS plastic, which is long-lasting and durable. They can withstand heavy rain, snow, frost, or hail.
Features
Polycrystalline Solar Panel
Rechargeable Ni-MH Battery
Light up to 8 hours
IP65 Waterproof
ABS plastic shell
Pros
Weather-Resistant
Corrosion-resistant
Easy To Install
Cons
Does not produce a bright light
Check Price
Outdoor Solar Lights, KOOPER 4 Pack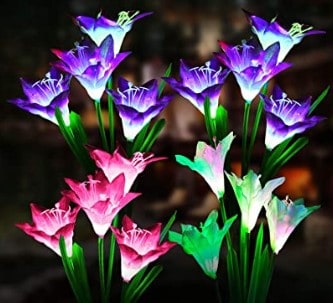 These 4 pack outdoor solar garden lights have a lily flower design. The lights are made of beautiful, processed fabric. It features adjustable stems and leaves that allow you to design their pose as you like freely. The lights create a romantic atmosphere for your garden. The package includes one white, one pink and two purple lights.
The lights come with a highly efficient solar panel made of monocrystalline silicon with a high photoelectric conversion rate. It features a built-in 1.2v/600mah NI-MH AA battery. The lights can work 8-10 hours when fully charged.
Features
Lily flower design
Monocrystalline silicon solar panel
Built-in 1.2v/600mah Ni-Mh AA battery
Charging time: 4-6 hours
Working time: 8-10 hours after full charged
Plastic and aluminum housing
ABS-stainless steel stem
Pros
7-color options
Waterproof rating: IP65
Durable
Cons
The battery drains too fast
Check Price
Conclusion
The best decorative solar lights should provide illumination, as well. It should also create a wow factor by making your garden look more beautiful.  To get the inspiration you need, you can look at Pinterest photos of decorative lights to plan how to use them for decoration in your landscape. Then look at the online reviews before settling on aa particular option. The options above are all perfect for this venture.