You might have wondered how you can charge solar lights without sunlight exposure or when the weather is not favorable for the charging to take place. Something to also consider is the neatness of outdoor lighting and whether they are an environmentally friendly way of illuminating your home.
These lights have solar panels that enable them to convert sun energy into electricity. The batteries inside the solar lights play a huge role in determining how many hours your lights will run at night. Not every battery type is compatible with every solar light and this makes the type and size of your solar lights very important to consider so that you get the best value for your money.
Whether you are looking for replacement batteries for your solar lights or you need some insight on which battery is best for solar lights, we got you covered with some options below:
Top Batteries for Your Solar Lights
| Name | Type | Capacity | Price |
| --- | --- | --- | --- |
| AmazonBasics AA rechargeable batteries | NiMH | 2000mAh | Check Price |
| Brightown Minetom rechargeable solar lights | NiMH | 1000mAh | Check Price |
| GEILIENERGY AA Size Rechargeable Batteries for Solar Lights | NiCd | 600mAh | Check Price |
| BONAI AA Rechargeable Batteries | NiMH | 2300mAh | Check Price |
| Batt Rechargeable AA batteries | NiMH | 1600mAh | Check Price |
AmazonBasics AA rechargeable batteries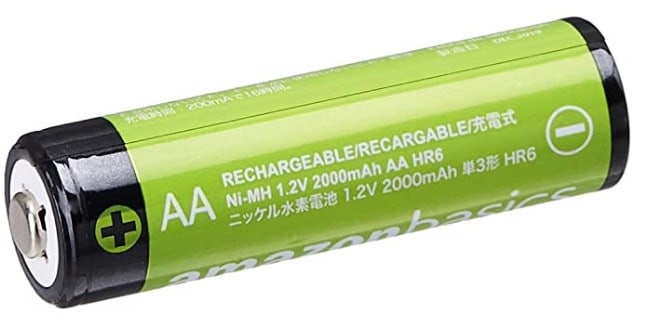 These rechargeable batteries work well for various devices including flashlights and digital cameras. They have gradual self-discharge for long battery life as they retain 80% of their power for 24 months. They also come pre-charged and ready to use. They can be charged up to 1000 times and are ideal for everyday use with minimal power loss.
Features
One 8-pack of pre-charged AA rechargeable batteries (2000 mAh)
Long battery life for 24 months
Ready to use
Ships in certified frustration-free packaging that's recyclable
One year warranty
Batteries can be recycled when they no longer hold charge
Pros
Great material quality
Value for your money
Long battery life.
Cons
Leakage may occur after some months of degradation.
Check Price
Brightown Minetom rechargeable solar lights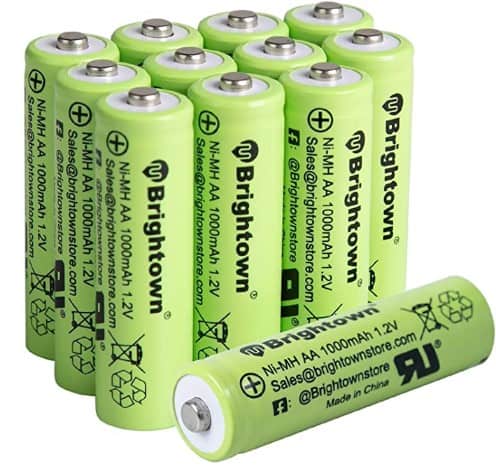 These batteries come pre-charged at 30% power charge for transportation safety so they have to be charged before use to make them last longer. They should go through at least 3-month recharge cycles to make the battery life last longer. A fast charger is recommended to charge these batteries to shorten charging time since its capacity is so high. They can be used for outdoor solar lights and other everyday devices like remote controls.
Features
Capacity: 1300mAh
Voltage: 1.2V
They are UL listed which means they are safer
Dimension: Diameter 14.5 mm, Height 50.5mm
Package includes 12 x 1300mAh Rechargeable battery
Pros
Multiple uses
Money-saving
High capacity
Long-lasting
Cons
Charging speed depends on the kind of charger used.
Low performance in low winter temperatures
Check Price
GEILIENERGY AA Size Rechargeable Batteries for Solar Lights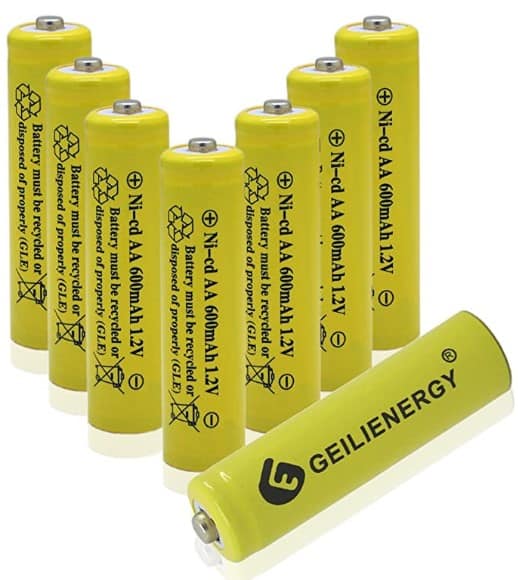 These AA rechargeable batteries are specifically designed to power outdoor solar light. They are great replacements for any AA size solar light batteries. The power should be used up each time before recharging or else the capacity will be affected.
Features
2 Volts 600mAh Ni-Cd rechargeable batteries
Dimension: Height 50mm, Diameter 14mm
Perfect for solar garden lights
Can replace 600mAh, 800mAh and NiCd AA cells
Uses sunlight energy to recharge
Pros
Easy to install.
Value for money.
Fair battery life.
Cons
The batteries work great for some time but begin losing power over.
They do not charge the lights long enough to last through the night.
Limited lifespan
Check Price
BONAI AA Rechargeable Batteries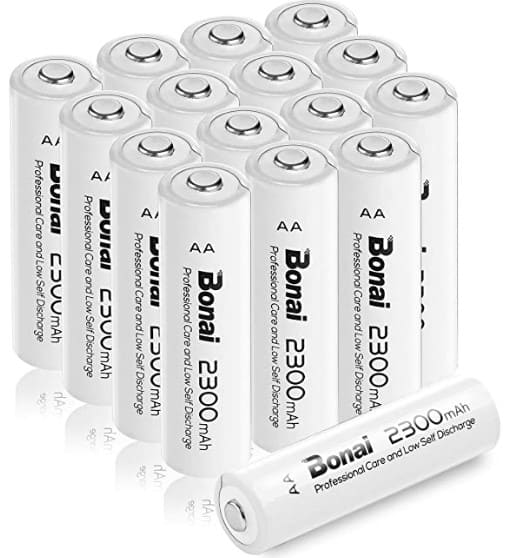 This pack of 16 AA high-capacity rechargeable batteries maintains 80% of the original charge after being stored for 3 years of non-use. It is highly recommended to charge them fully every 3 months. They perform well in cold temperatures and still maintain high power in low temperatures. They work well with a variety of electronic devices.
Features
Quantity: 2300mAh Ni-MH AA rechargeable batteries
Voltage: 1.2V
High performance of up to 1200 rechargeable cycles
Comes pre-charged 15% to 20% of capacity by solar energy that could be used upon purchase
Pros
Widely used for a variety of devices.
Great battery life.
Value for your money.
Cons
May not hold charge after some time of usage.
Batteries don not charge with any charger.
Check Price
Batt Rechargeable AA batteries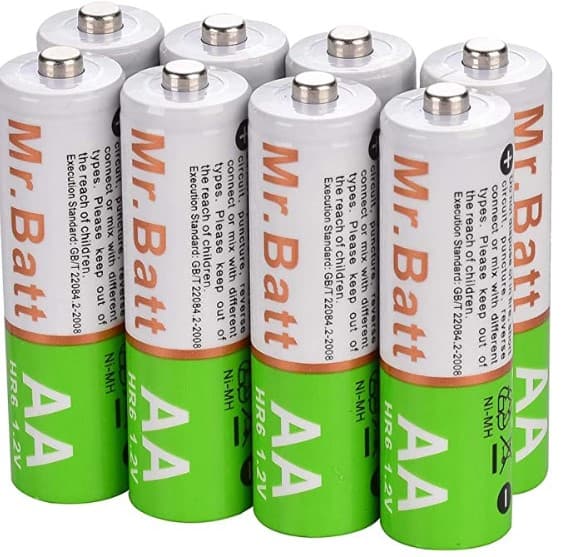 These batteries charge hundreds of times with minimal power or capacity loss. Stays at 75% capacity even after-use. They are great for various household devices. They should not be disposed of in fire and should be kept out of children's reach as they tend to put them in their mouths. The specified charger should be used.
Features
NiMh AA rechargeable batteries, 1600mAh capacity
Can be used for up to 1200 cycles, which saves huge money than alkaline batteries
Low self-discharge
Pre-charged at 60% of power by solar before delivery
Pros
Value for your money.
Great battery life.
Hold charge.
Great price.
Cons
May lose charge after some time.
Does not charge with any charger.
Check Price
How long should solar light batteries last?
Depending on the brand of the battery and the age of your solar panel, solar lights batteries last anywhere between 5 to 15 years. If you have a new solar battery, it is possible that you will need a replacement in the future to match the lifespan of your solar lights system.
Can you use regular batteries for solar lights?
You can use regular non-rechargeable batteries to test whether the LED in the solar lights works well. Other than that, non-rechargeable batteries are not to be used in a rechargeable outdoor solar light as they are not compatible with their functionality.
Things to consider when choosing solar lights replacement batteries
There are various factors to consider while choosing solar batteries for replacement. They include:
Performance
Battery lifespan and the discharge cycles they have to depend on the depth of discharge, rate of the same, temperature, and charging voltage. The most important factor to consider is the depth of discharge and temperature that ultimately determines the longevity of the system.
Check this too: Best Solar String Lights
Temperature
Battery capacity decreases as the temperature lowers and increases as temperature rises. The standard temperature rating for batteries is at room temperature. At freezing temperature, the capacity is reduced by 20% while at extremely cold temperatures, battery capacity drops by 50%. Even if the battery capacity is increased at higher temperatures, the battery life is still shortened. Choosing a quality battery with operating temperature specifications that exceed your environment's average temperatures is a key factor that will get you the most out of your solar needs and experience.
Daily cycling
Basically, solar batteries are used to illuminate every night per year, so the total number of cycles defines the battery lifespan.
Battery storage and testing
Batteries lose their charge when sitting on the shelf and not in use. It is important to store them well and keep them charged up before every usage. It is important to note that stored batteries should never be let to self-discharge below 65% before recharging.
This mostly applies for lead-acid batteries and during winter they should not be allowed to self-discharge below 80%. The self-discharge rate will vary with storage temperature and the remaining capacity. If batteries have been neglected, stored at high temperatures, and their charge capacity is reduced, it is recommended to buy new batteries. Batteries should be stored at room temperature or lower for not more than 5 months before use.
Conclusion
It is important to note that while replacing solar lights batteries, it is best if they are all replaced at once to get the most out of their functionality. We highly recommend the AmazonBasics AA rechargeable batteries and Minetom NiMH rechargeable AA battery for solar lights and as your best solar lights batteries options. Ultimately, solar batteries are always a good investment.