A backpack leaf blower offers you the convenience of moving around while blowing leaves. This not only makes your work easier, but it also makes it easier to carry your leaf blower to and from storage. Because it comes with a carryon bag most of the time. 4 stroke engines, though heftier, are better if you are looking for smooth operation as they rattle less than 2-stroke engines.
Not to forget that they are fairly priced for the level of convenience they offer when it comes to clearing your yard especially during fall. However, you need to be extra careful when shopping for the best 4 cycle backpack leaf blower in the market.
If backpack leaf blowers are too much for you, check out these handheld leaf blowers that can also double up as snow blowers.
Top 4-Stroke Backpack Leaf Blowers in 2021

Makita EB5300TH 4-Stroke Engine Tube Throttle Backpack Blower
This top 4 cycle leaf blower has an automatic engine decompression mechanism for an easy start. It also has engineered straps that are adjustable for a snug fit. Not to forget the tool-less handlebar adjustment for quick setting of the handlebars. It has a commercial-grade engine for increased efficiency.
Features
Tool-less handlebar adjustment
Adjustable straps
Automatic engine decompression mechanism
Pros
Low noise production
Easy to start
Low fuel consumption
Cons
Check Price on Amazon
CRAFTSMAN BP410 32cc, 4-Cycle Full-Crank Engine Backpack Gas Powered Leaf Blower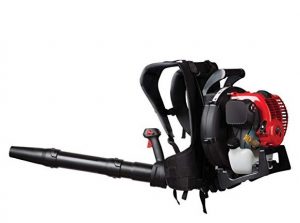 The Craftsman backpack leaf blower comes with a tensioned backpack made up of different types of material to ensure even weight distribution and comfort during use. The cheap 4 stroke leaf blower has a 4 cycle engine with a CFM of 460 cubic feet per minute and airspeed of 205 miles per hour.
Additionally, its 4 cycle engine prevents the mixing of gas and oil. It is also equipped with easy-start technology for easier usage.
Features
Easy start technology
Fully tensioned backpack
Variable speed throttle
Pros
Comfortable to carry around
Greater control of the leaf blower
Even weight distribution
Cons
The CFM is a bit low for its overall size and engine capacity
Check Price on Amazon
Things to Consider When Choosing a Backpack Leaf Blower
The key things to consider when buying a backpack leaf blower include;
The Design of the Backpack
Ensure it is comfortable and the weight of the leaf blower is distributed evenly.
Check this too: Best radio headphones for lawn mowing
The Engine Capacity
Consider getting a blower with a commercial-grade engine for maximum gain on your money. This will ensure it has enough airspeed and velocity to handle the job.
Fuel Efficiency
Ensure the leaf blower you select is not a fuel guzzler. Get one that is energy efficient.
Conclusion
In summary, ensure that you vet each and every backpack leaf blower you shortlist for purchase. Then ensure that they meet the criteria listed above. After you strike out the options, you will be able to select the best 4 cycle backpack leaf blower available in the market today.